Ubisoft giving ace-o RTS World in Conflict away for free
Asscreed 4 free next week too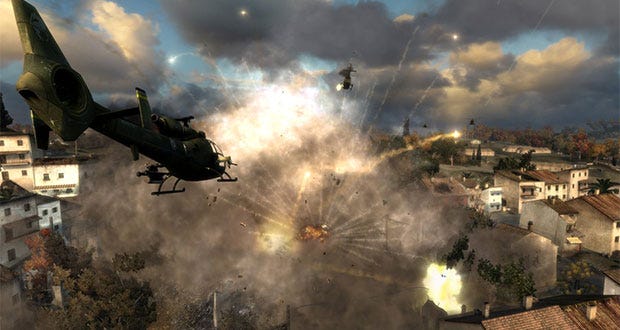 DID YOU KNOW: one of the first-ever posts on this here website was about Massive Entertainment's alt-Cold War real-time strategy game World in Conflict, and for years we even had a screenshot of one of its very impressive explosions on our About/mission statement page. It was a game we liked so much that we even ran photographs of TV's famous Kieron Gillen wearing a delightful promotional WiC hat. As such, it's been a minor tragedy that WiC was removed from Steam a while back (though it is on GOG).
Its excellent tanks and incompetent captains are not entirely lost to us, however - Ubisoft are giving it away for free until Monday.

World in Conflict was to some extent a spiritual successor to Ground Control, though its the USSR-invades-the-US-in-the-80s plot and some deliberately dipshit characters also made it a little bit Command & Conquer. Like RPS, it's ten years old this year. Hence, this is a bit of an anniversary giveaway, although it forms a double-whammy with Ubi giving away bestest-best Asssassin's Creed, Black Flag (aka AC4). Freebie downloads for the latter don't go live until Dec 12-18 though - we'll aim to give you a heads up about that closer to the time.
In the meantime, do go snag a copy of WiC. It's an extremely tanky and explosive RTS that particularly excelled in multiplayer, and it's yours for no-pennies until 2AM PST/10A M UK on Monday, December 11.