A 40% voucher makes this Ergotron-built monitor arm just £49
This rebranded Ergotron LX is strong, stable and now super cheap.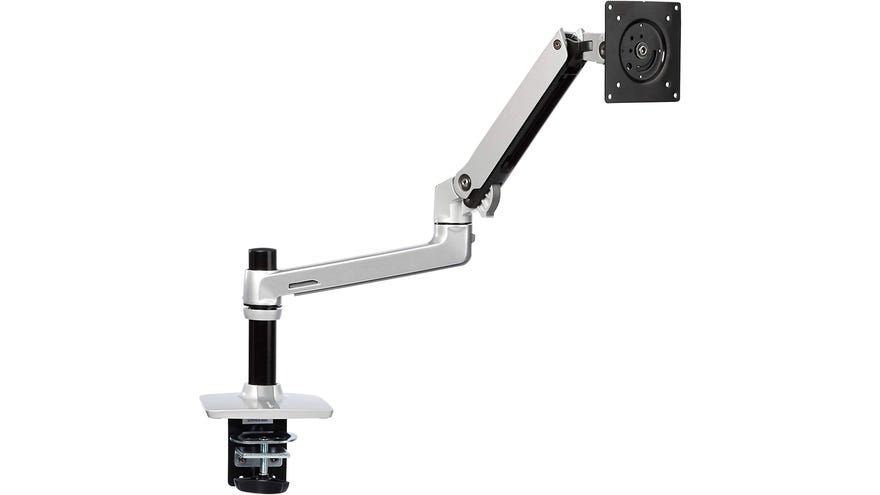 Update (22nd May): This is the final day to grab this excellent deal on an Ergotron-built monitor arm! Original article continues:
Ergotron make some of the best monitor arms around - reliable, capable and generally brilliant - but they're also pretty pricey. That's probably why Amazon hit up Ergotron to make its Amazon Basics monitor arms, which offer the same excellent quality in unbranded form for considerably less money.
Today though one of these arms is even better value than usual, as there's a ridiculous 40% off voucher available on Amazon's take on the Ergotron LX, dropping this high-end monitor arm from £81 to just £49. That's a brilliant price for an arm that can support monitors up to 11kg in weight with full tilt, swivel, rotation and height adjustability.
To get the discounted price, just tick the 40% voucher at the product page, and you'll see the price revised to £49 in the checkout.
I've used the black version of this monitor arm for many years and it's one of the best I've got, proving significantly more stable than cheaper options I picked up earlier. Repositioning your monitor is easy, and having a completely clear desk to put your mouse and keyboard directly underneath the screen is an absolute game-changer - it's really hard to go back to a desk stand after trying it out!
This Amazon Basics Monitor Arm includes 75x75 and 100x100 VESA mounting, so almost any modern monitor should be compatible with it - just double-check your monitor's product page to confirm before picking this up.
In any case, this is a righteous deal and well worth trying out - you can always return the arm if you don't get on with it, but I'm confident that you're going to love it. You could even pick up two or three for a killer multi-monitor setup... I know I'm tempted!