Absolver will add more modes and moves after launch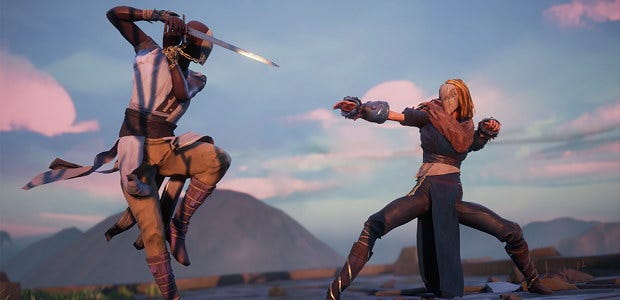 I was already 'jazzed', 'stoked', and 'ziffed' for the launch of open-world fighting game Absolver [official site] later this month, and now the weeks beyond that are sounding good too. New fighting styles and moves will arrive in free content updates after launch, developers Sloclap and publishers Devolver Digital announced yesterday, as well as features like a 3v3 mode and spectating. In a game where every player builds their own fighting style from different stances and attacks, I'd certainly like to safely watch other people's technique.
Absolver, to refresh your memory, is a action-RPG sort of fighting game, travelling through a beautiful land to learn new skills and duff people up. Along with kicking in NPCs, we can duff up other players, or team up with 'em, or even form mentor/student partnerships to learn and borrow moves.
Here, this new trailer cuts into the multiplayer side:
It is so pretty.
The content updates should start rolling 4-8 after launch, Devolver tell us. As for what to expect:
"Through extensive testing and a closed beta, early players have requested features like 3 versus 3 mode, ranked matches, and a spectator mode to watch the action and jump in when it is your turn to battle. These three features will be some of the first implemented in a series of free content updates alongside new Combat Styles and moves for players' Combat Decks."
More new bits are planned too, though under wraps for now.
Absolver is coming to Steam on August 29th, priced at £22.99/29,99€/$29.99.
While I'm here and vidblasting, hey, check out this recent vid showing some of the stylin' outfits we'll get to create:
So very pretty.