Absolver's multiplayer melee combat looks ace
Nice moves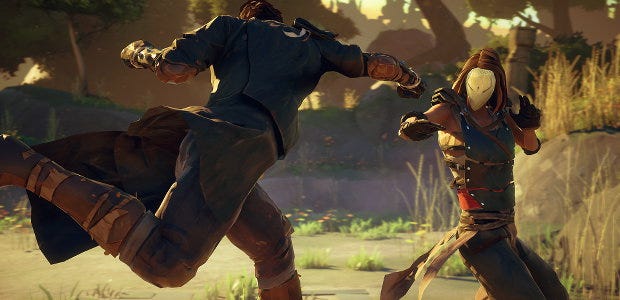 When our Adam played Absolver [official site] last year, he declared the online melee murderfest "one of E3's best games." Oh we're all very happy that you had such a good time, but what about us? We won't get to play until later this year. No scampering around an open world duffing up enemies and other players, not for us yet. If it's any comfort, we can watch a 15-minute new video with one of the devs explaining the ins and outs of PvP face-mashing. Hey, this does look fun.
If you want a little textual enticement, here's a chunk of Adam's words:
"You'll collect new attacks and can learn them through observation, but even the most powerful strike is of little use if you don't have an understanding of when and how to use it. The construction of movesets is central to the game's intricate simulation of hand-to-hand combat, and piecing together a flurry of strikes that flows from one stance into another, mixing in guard breaks and other special moves, adds a level of controlled complexity that I find more exciting than anything else I've ever seen in a fighting game. That's no idle remark – Absolver abandons complicated input and replaces it with customisable martial arts, planning and preparation. It's a revelation."
Ah, damn it. This does sound great. Real glad you got to play it, lucky you, you jerk.
Absolver's due at some unknown this year, developed by Sloclap and published by Devolver Digital.