Add on 8TB of storage with this UK Seagate IronWolf HDD deal
Just £159 for a NAS-ready hard drive that also fits easily into gaming PCs.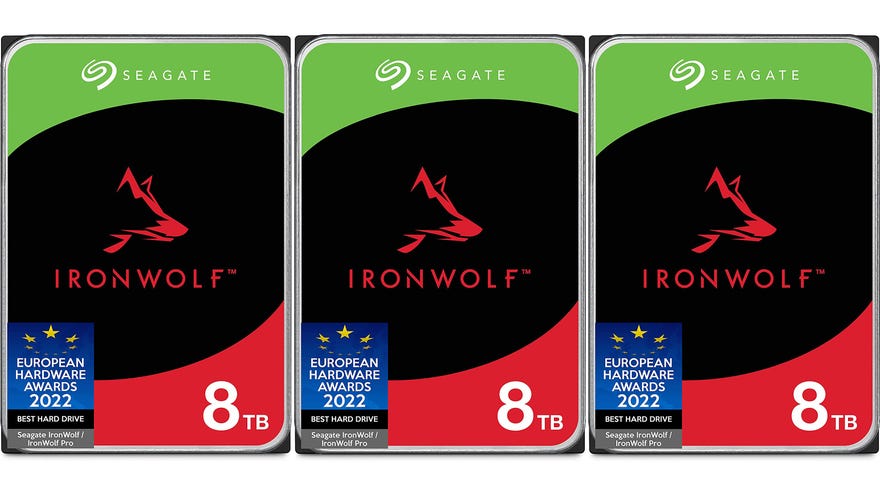 Seagate's Iron Wolf and Iron Wolf Pro drives are brilliant choices for NAS (networked attached storage) and regular PC use, and now an 8TB model is available for just £159 on Amazon UK. That's down from an RRP of £225, and the best price we've ever seen on this model.
These Seagate drives are well respected for their reliability, and with a 6GB/s SATA connection and 7200RPM speed, they're reasonably speedy for a hard drive too. Of course, SSDs are the superior choice for gaming, but having a big ol' hard drive to back up your game directories to or store media like photos, videos and music is always a good idea.
If you're the sort of person that finds it easy to fill up an SSD with random downloads, then picking up one or two of these drives - and maybe sticking them in a NAS - is a great way to solve your storage needs for at least a few years!
The drives currently have a 4.7/5.0 star rating on Amazon, which using the power of maths I can tell you equates to a 94% rating - not bad! The majority of the reviews mention the drives' excellent performance, although some do note that the drives are a bit noisier on account of their high speeds - something worth keeping in mind if you're sensitive to noise! However, if you're plunking this in a NAS, then you don't need to keep the drives within earshot and this becomes less of an issue.
Are there many RPS readers out there with big HDDs? I've got a few portable drives but my main work machine is now all solid state, so I'm curious to know whether that's usual or not. Let me know in the comments!