Also: Bethesda Announce New Vegas DLCs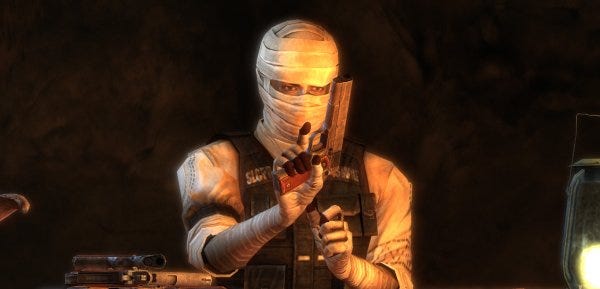 And I can pluralise DLC like that, because I am in charge of language. Anyway, the Bethesda Blog has a bouquet of details on the forthcoming New Vegas content, and there is three of it: Honest Hearts, Old World Blues, and Lonesome Road. Honest Hearts is due on May 17th and "takes you on an expedition to the unspoiled wilderness of Utah's Zion National Park", then Old World Blues, which appears some time in June, enables discovery of "how some of the Mojave's mutated monsters came to be when you unwittingly become a lab rat in a science experiment gone awry." Finally there's Lonesome Road in July. That "brings the courier's story full circle when you are contacted by the original Courier Six, a man by the name of Ulysses who refused to deliver the Platinum Chip at the start of New Vegas." I don't know what that means, but it sounds like something that would happen in a Fallout game.
These DLCs are all going to be $9.99, and full details are here.