AMD's new Ryzen Vega processors are out now and cost next to nothing
Ryzen from the ashes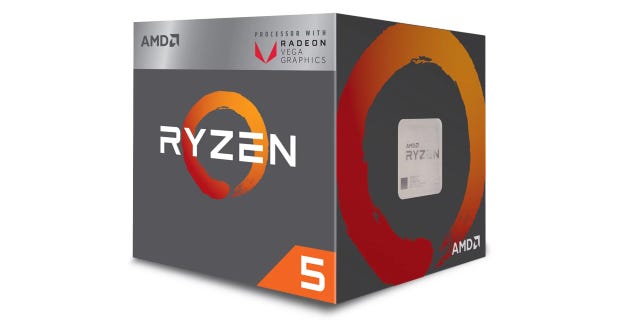 AMD's new Ryzen processors with built-in Vega graphics have finally launched around our fair planet. First announced at CES back in January this year, the Ryzen 5 2400G and Ryzen 3 2200G are the first APUs of their kind to come with AMD's tasty Vega graphics built right into the chip, giving budget PC builders a much-needed boost in power and potentially negating the need to have a dedicated card altogether.
What's more, they only cost $169 / £150 and $99 / £90 apiece, bringing some sweet relief to those suffering from the ongoing GPU crisis.
According to AMD, the quad-core 3.6GHz Ryzen 5 2400G can deliver the same graphics performance as an Intel Core i5-8400 and an Nvidia GeForce GT 1030 graphics card combined, giving it up to 156% more graphics performance than its i5 counterpart, 21% more system performance and up to 39% faster graphics performance when it's overclocked to its maximum boost speed of 3.9GHz.
AMD haven't yet provided any equivalent figures for the Ryzen 3 2200G, but this quad-core 3.5GHz chip will also be overclockable to a maximum boost speed of 3.7GHz.
They both use the same AM4 socket as their existing Ryzen CPU counterparts, too, so anyone looking to upgrade won't need to fork out for a new motherboard. Instead, all you'll need to do is perform a simple BIOS update and you'll be ready to go.
"AMD Ryzen Desktop APUs are a perfect example of the innovation we bring to market for consumer and commercial PC users," said Jim Anderson, senior vice president and general manager of AMD's computing and graphics business group.
"Combining our high-performance CPU and GPU architectures, this new category of Ryzen desktop processors is designed to deliver a smooth overall computing experience, as well as the ability to enjoy true 1080p HD gaming, eSports or advanced display features through the visual fidelity of the built-in Radeon Vega graphics."
AMD's new Ryzen APUs arrive just two months before the launch of their upcoming second generation Ryzen+ CPUs. While the new APUs out today still use a 14 nanometer (nm) manufacturing process, AMD's so-called Ryzen+ CPUs will all be 12nm chips, making them more power efficient and better able to regulate their clock speeds under load. It's not yet certain how much of a speed boost they'll deliver, but I'll let you know as soon as I've been able to test them first-hand.