AMD unveil new Ryzen 5 2500X and Ryzen 3 2300X CPUs for pre-built PCs
Rise and Ryzen again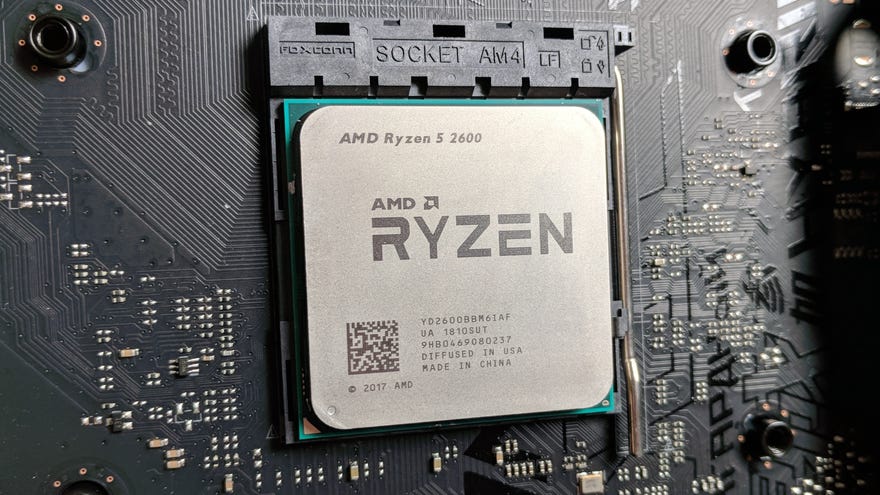 Since September is apparently a great time to launch new processors, AMD are at it again today with the announcement of two brand-new 2nd Gen Ryzen+ CPUs. Following hot on the heels of last week's Vega-infused Athlon 200GE announcement, the Ryzen 5 2500X and Ryzen 3 2300X are both set to be quad-core chips with tasty maximum clock speeds of 4.0GHz.
Before you get too excited, though, there is unfortunately a small catch, in that you're only going to be able to find them in pre-built PCs made be select OEM partners. Are they going to be worth tracking down over the rest of AMD's Ryzen chips like the Ryzen 5 2600/2600X or Ryzen 3 2200G? Let's take a look.
Utilising the same 12nm manufacturing process and Zen+ architecture as the rest of AMD's second gen Ryzen+ line-up, the main benefit of opting for one of these new chips is their faster base and boost clock speeds. As you can see from our nifty table below, the Ryzen 5 2500X is actually a touch faster than its six-core cousin, and doesn't require any more power in order to do it, either.
| Specs | AMD Ryzen 5 2500X | AMD Ryzen 5 2600 | AMD Ryzen 3 2300X | AMD Ryzen 3 2200G |
| --- | --- | --- | --- | --- |
| CPU Cores | 4 | 6 | 4 | 4 |
| Threads | 8 | 12 | 4 | 4 |
| Base clock speed | 3.6GHz | 3.4GHz | 3.5GHz | 3.5GHz |
| Max boost clock speed | 4.0GHz | 3.9GHz | 4.0GHz | 3.7GHz |
| Smart Prefetch Cache | 10MB | 18MB | 10MB | 6MB |
| Precision Boost Overdrive | Yes | X | Yes | X |
| Thermal Design Power | 65W | 65W | 65W | 65W |
That said, it's hard to say exactly how much of a difference this will make to the 2500X's overall performance, as the Ryzen 5 2600 still has the benefit of those two extra cores. As such, I reckon the 2600's multi-tasking speed is still likely going to be nippier than its X-rated sibling, although the 2500X may well have the edge when it comes to single-core tasks.
The only indication AMD's given about their relative zippiness at the moment is that they'll be around 8-10% faster in single and multi-threaded workloads than the previous generation - which I assume to mean last year's Ryzen 5 1500X and Ryzen 3 1300X rather than the rest of the wider 2000-series.
The Ryzen 3 2300X, meanwhile, is the first 2nd Gen Ryzen 3 chip AMD have announced outside of their Radeon Vega-infused 2200G CPU. The main disadvantage here, of course, is that the 2300X doesn't come with any onboard graphics like the 2200G. Instead, you're getting much faster clock speeds as well as a larger smart prefetch cache, which lets it store more instruction data to help boost performance even further.
Outside of their core specs, AMD say these chips will also be able to make use of faster DDR4 RAM clocked up to 2933MHz, and both will come equipped with support for Precision Boost Overdrive (provided they're paired with the right AM4 socket motherboard) - the same fancy multithread-boosting tech that comes with AMD's second gen workstation-grade Threadripper CPUs.
If all that sounds like just your kind of CPU, the first pre-built PC to get one of these new chips - specifically, the Ryzen 5 2500X - is the Acer Nitro N50-100 desktop, which has just gone on sale for $900 / £900. Measuring a mere 340x163x350mm, this titchy system also packs a 4GB Nvidia GeForce GTX 1050Ti, 8GB of RAM and a 256GB SSD and 1TB HDD combo - and I'll do my darnedest to try and get one in for testing to see what it's made of as soon as possible.