AMD Ryzen 5 2600 / 2600X review: The Intel Core-i5 Coffee Lake killers
A new star has Ryzen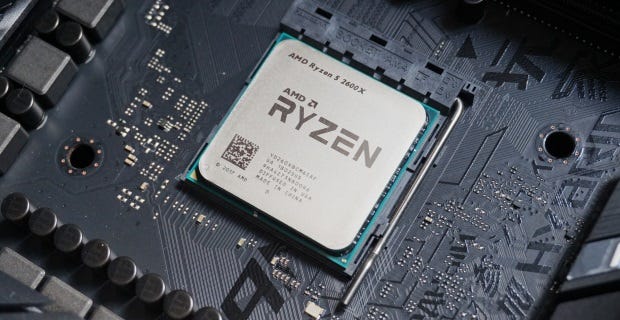 The Ryzen 5 2600 and 2600X are AMD's new mid-range desktop CPUs, and they're primed and ready to take on Intel's 8th Gen Core i5 Coffee Lake processors. With six cores and 12 threads apiece, plus respective base clock speeds of 3.4GHz and 3.6GHz, they may not look like huge improvements over their 1600 and 1600X Ryzen predecessors on paper, but this time it's what's inside that counts, as both chips now have a faster, more efficient architecture behind them and better tech to help them reach their improved max boost clock speeds of 3.9GHz and 4.2GHz more regularly.
Today, I'll be looking at both the Ryzen 5 2600 and its X-rated sibling together in one big mid-range face off, pitching them against each other and seeing how they compare to help you decide which one is the best gaming CPU.
The good news first. If you're an existing Ryzen owner, or own an AM4 motherboard, then you won't need to get a new one to start using the Ryzen 5 2600 or 2600X. You'll probably need to perform a BIOS update to ensure your board is definitely compatible and has the right support, but fundamentally they'll work with every AM4 socket board that's currently available - a much more enticing and wallet-friendly prospect than upgrading to Coffee Lake and having to get a whole new motherboard in the process.
You also get a cooler for each processor in the box, which is another nice thing that helps save you a bit of money when you come to upgrade. In the case of the Ryzen 5 2600, you get an AMD Wraith Stealth cooler, while the Ryzen 5 2600X gets an AMD Wraith Spire.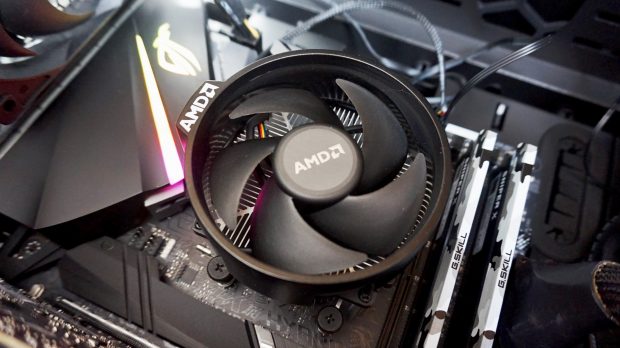 You can read more about all the new features that come with these new 2nd Gen Ryzen chips in our big AMD Ryzen+ article, but the biggest improvements all revolve around getting the best out of your processor's clock speed, letting each chip run faster for longer without having to worry about the faff of overclocking. This is largely down to AMD's improved Precision Boost 2 tech, which will now run each CPU core as fast as it can (where temperatures allow) whenever needed, bringing improved performance to multitasking situations where the CPU isn't completely overloaded, such as playing and streaming games simultaneously.
AMD's XFR 2, or Extended Frequency Range 2, tech also comes into play with Ryzen+, helping to improve each processor's multi-thread performance when CPUs have good cooling. You'll probably need a better cooler than the stock model that comes in the box to really take advantage of this, all told, but it essentially allows a processor to keep boosting up to 100MHz over its max limit where conditions allow - which is handy for anyone into water-cooling or you have a bit of money to spare on a beefier CPU fan and want to eek out the best possible performance from your respective chip.
Let's see what that all means in practice. To test the Ryzen 5 2600 and 2600X, I stuck both of them into the following system: an Asus ROG Strix X470-F Gaming motherboard, 16GB of G.Skill Sniper X RAM, an Nvidia GeForce GTX 1070Ti graphics card, and a Samsung 850 Evo SSD.
Starting with Cinebench R15, which uses Maxon's real-world Cinema 4D engine to render a complex, photo-realistic 3D scene of orbs and baubles (whatever floats your boat, I guess), the 2600 is more or less on par with last year's Ryzen 5 1600X, which is pretty good going considering its lower clock speeds and more energy-efficient 65W thermal design power (TDP) compared to the 1600X's 95W TDP.
That's still not a massive increase over the regular 1600, mind, but you can still expect around a 5% increase in single core tasks and a boost of roughly 8% when it comes to more demanding multicore scenarios.
The 2600X, meanwhile, was around 5% faster than the 2600 in both of Cinebench's single and multicore tests, and by extension the same gap applies to the 1600X. That doesn't sound like a lot, but compared to the competition over at Intel, it's surprisingly significant - at least when it comes to multicore performance.
When I put my six-core 3.6GHz Intel Core i5-8600K through Cinebench as well, for instance, its single core score came in 15% faster than the 2600 and 11% faster than the 2600X, but in the multicore test, the 2600 came in 16% faster and the 2600X was 20% faster.
I saw similar results in Geekbench 4 as well. Once again, the Ryzen 2600 either matched or surpassed the 1600X in single core and multicore performance, while the Ryzen 5 2600X was about 5% in front on both counts. Here, the multicore gap between new Ryzen 5s and my Core i5-8600K was less pronounced, but the Intel chip could still only match the Ryzen 2600X rather than surpass it - which, considering the difference in price (around £25 and $15 more over the £194 / $230 Ryzen 5 2600X, and the fact you get a cooler with AMD), is fairly significant.
That's all well and good for general computing tasks, but the impact on playing games is much, much smaller. Of course, a lot of your gaming performance is going to be dependent on what type of graphics card you have rather than your CPU, but your processor is still responsible for certain tasks such as physics bits and pieces and all that streaming jazz you may or may not occasionally partake in.
At higher resolutions, you can expect to see naff-all difference between having a Ryzen 5 2600 and 2600X, as they both produced an overall average of around 40fps in Rise of the Tomb Raider (40.4fps and 40.7fps if you really want to get specific) when I ran its internal benchmark at 2560x1440 on Very High graphics settings. For comparison's sake, my Core i5-8600K managed a whole extra frame (41.2fps), but that's a small enough difference to basically call it a draw.
Things got more interesting at 1080p, but only slightly. While the Ryzen 5s produced respective overall averages of 62.8fps and 63.7fps, the Core i5-8500K positively leapt ahead with… 66.5fps. So still not much of a difference, but it would seem that the age-old wisdom of Intel being better than AMD for gaming still holds true, if only just.
Still, one thing is absolutely clear. If you're contemplating upgrading to a 2nd Gen Ryzen 5 CPU, then you're probably better off going with the regular £169 / $200 Ryzen 5 2600 unless you're the photo and video-editing type who regularly uses their PC for lots of demanding creative stuff as well as playing games. Otherwise, you're just wasting money, as gaming-wise you're not really getting any real, tangible benefit by opting for the 2600X whatsoever.
Then, of course, there's the battle between the Ryzen 5 2600 and Intel's suite of 8th Gen Core i5 chips. The Core i5-8400 is closest to the Ryzen 5 2600 in price (coming in at £170 / $205), but has a slower base clock speed of 3.0GHz and can't be overclocked, so you're really looking at comparing it with the £210 / $260 Core i5-8600K if you want a fairer bit of competition.
And really, if it were me building a new PC from scratch today, I think I'd be seriously tempted to go with the Ryzen, as I not only get to save a significant chunk of change (£50 / $60) compared to the 8600K, but I'm also getting better multicore performance, nigh on identical gaming chops and I don't have to worry about spending even more of my hard-earned cash on a cooler, either, making it even better value for money.
There's still that pesky Spectre security flaw to put up with, of course, but at least going with Ryzen means you're also saved the hassle of dealing with the Intel-only Meltdown problem at the same time. AMD may have spent years walking in Intel's shadow, but with the Ryzen 5 2600 at their disposal, their mid-range game is definitely back in business.