An Nvidia price drop and Ebay 10% off code brings the RTX 4070 to £490
That's essentially the same price as AMD's RX 7800 XT.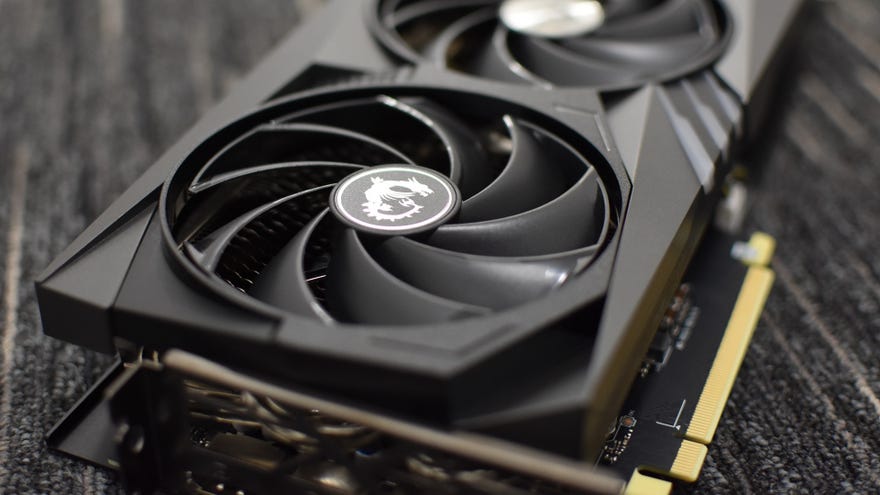 Nvidia's RTX 4070 is a great graphics card - but the release of the competing RX 7800 XT has put pressure on Nvidia to drop prices. Combined with a 10% Ebay discount that knocks £55 off the price of a unit from MSI, it's now possible to grab this GPU for just £490 - around the same price as AMD's RX 7800 XT while delivering around 15% better RT performance, while also packing in the frame-rate advantages of DLSS 3 Frame Generation and superior power efficiency.
MSI are a well-respected manufacturer when it comes to Nvidia's board partners, and their Ventus 2X unit combines the mid-high-end GPU with a simple two-fan, dual-slot design that performs well without taking up a load of space. The board requires two eight-pin power inputs to function and offers one HDMI 2.1 port and three DisplayPort 1.4 ports.
The RTX 4070 comes off well against the RX 7800 XT, as mentioned in the intro, but there are some things that the AMD card does better - namely rasterised performance. That means in every game without RT or DLSS to swing things in Nvidia's favour, you can expect marginally faster frame-rates - normally around 10%, although this does vary on a per-game basis as you'd expect. In Starfield, for example, the AMD card is closer to 20% faster on ultra settings. The AMD card also has more VRAM, 16GB versus 12GB, although we thus far haven't seen any current-gen games where 12GB wasn't sufficient - so this spec difference is likely only of interest to video editors that can use as much VRAM as possible when working with 4K or 8K footage.
With all things considered though, I'd be tempted to go for the Nvidia card - especially at this price. After all, DLSS delivers better visuals than AMD's FSR 2, while AMD's Frame Generation features haven't arrived in games yet.
I'd be interested to hear your thoughts though, so feel free to share them in the comments below.