AOC's new AG352UCG6 monitor brings 120Hz to ultrawide gaming
Open wide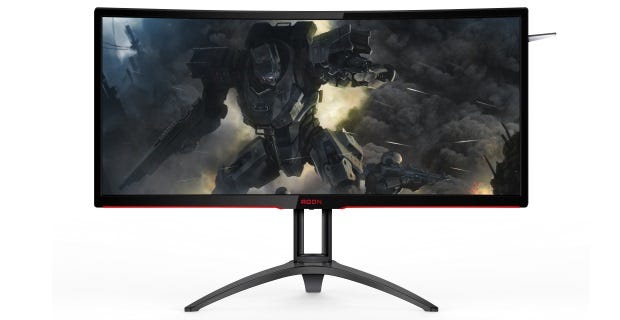 Just in case you haven't had enough of curved, ultrawide monitors recently, you'll be pleased to hear that AOC is about to unveil a brand new one at this year's Intel Extreme Masters tournament in Katowice, Poland.
Dubbed the AG352UCG6 Black Edition (yes, that's the AG352UCG I reviewed with a 6 on the end), this 35in, 3440x1440 MVA monitor now comes with a 120Hz refresh rate, allowing you to squeeze a whole 20 extra frames out of it compared to its six-less sibling.

It is only meant to be a special edition of the regular AG352UCG, according to AOC, mainly for 'the esports', so it's not that surprising that very little appears to have changed. Like its unspecial cousin, the AG352UCG6 also comes with a 21:9 aspect ratio, Nvidia G-Sync support, plus AOC's flicker-free technology to help keep eye strain to a minimum. You also get that handy retractable headphone arm on the back to hang up your headset when you're done playing games.
However, despite the IEM Expo taking place this weekend (24th-25th February) and the IEM tournament going on between 2nd-6th March, the monitor won't actually be available to buy until later this year - May, to be precise. There's currently no word yet on how much it will cost, but given the AG352UCG I reviewed cost £760 / $800, you can probably expect it to land somewhere around there - only probably at a slightly higher price because of those 20 extra refreshes.
If you happen to be in the general vicinity of Katowice during those dates, however, and want to go and see it in the flesh, then you'll find the AG352UCG6 at the Alsen booth located in B2.
AOC's own esports team won't be using the AG352UCG6 to compete on at the IEM - only AOC's 240Hz AG251FZ will do, in this case - but ultrawide monitors are generally quite handy for games and office work alike. They provide a lot more space for looking at documents side by side than a regular 16:9 monitor, and they're generally better for watching films and videos on as their 21:9 aspect ratio helps keep those pesky black bars to a minimum.
Games that utilize a 21:9 aspect ratio, like Final Fantasy XII: The Zodiac Age among others, also look quite lovely in ultrawide mode, but it's worth pointing out that a lot of games will still revert to a usual 1920x1080 or 2560x1440 resolution with chunky black bars at either end of the monitor if they don't support it, which is slightly less lovely.
Still, while the AOC AG352UCG was a very good monitor when I tested it earlier this month, there's also the Philips 349X7FJEW and Acer Predator Z35p to consider as well. The FreeSync-enabled Philips is significantly cheaper than its two rivals, while the G-Sync-supported Acer has marginally better viewing angles than its AOC counterpart. I'll also be looking at Dell's Alienware offering, the AW3418DW, very soon, too, to try and find which one deserves to be crowned best gaming monitor for ultrawide gaming.