Acer Predator Z35p review: A 21:9 monitor with a one-hit KO price
Get to the chopper!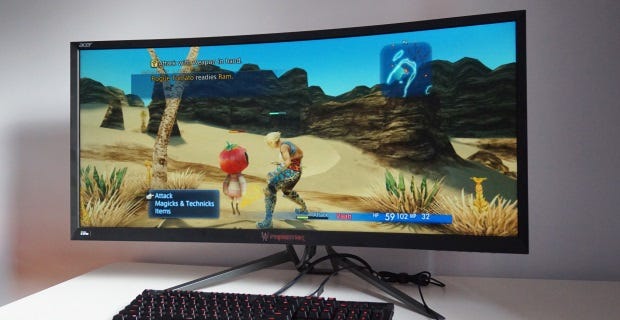 Of all the ultra-wide 21:9 displays I've looked at so far in my quest to find the best gaming monitor for Final Fantasy XII, the Acer Predator Z35p is by far the most expensive. At £800 / $990 at time of writing, it's around £150 / $300 more expensive than the Philips 349X7JEW and £50 / $200 more than the AOC Agon AG352UCG.
Sure, it has a 35in curved 3440x1440 VA display with a 100Hz refresh rate, an adjustable stand and Nvidia G-Sync support, but can it really justify such a hike? Let's find out.
On size alone, it certainly feels like you're getting your money's worth. Measuring 579mm high, 844mm wide and a desk-hogging 309mm deep, the Predator Z35p has a significantly bigger footprint than either the Philips 349X7JEW or the AOC AG352UCG. As such, you'll need quite a sizable desk in order to accommodate it, and as you can see from the picture below, I only had just about enough room for my keyboard in front of the Z35p. Anything bigger, like trying to squeeze a laptop in front of it to use as a second screen, is out of the question - unless you happen to have a desk the size of a small planet, of course.
The stand does afford quite a lot of flexibility, though, including a generous 130mm of height adjustment, 20 degrees of side-to-side swivel and between 4-35 degrees of tilt, so it's pretty easy to get it set up to your liking. There's also a small cable tidy for threading your wires through to help keep things nice and neat.
For all its extra bulk, though, I was disappointed to find there were still just two display inputs: DisplayPort and HDMI. To make matters worse, the HDMI port only supports the 1.4 standard rather than the 4K-friendly 2.0 standard, giving it exactly the same problem as AOC's AG352UCG.
As I explained in my AOC Agon AG352UCG review, the limited bandwidth of HDMI 1.4 means the Predator Z35p's refresh rate can only reach 50Hz at its full resolution of 3440x1440. This in turn restricts the number of frames you'll be able to see in games. You might have two Nvidia GeForce GTX 1080 cards inside your PC, for example, but you'll see only be able to see a maximum of 50fps if you use the HDMI port.
Switch over to DisplayPort, however, and you'll not only be able to use the monitor's Nvidia G-Sync support to help make games appear smoother and less stuttery, but you'll also be able to take advantage of its full 100Hz refresh rate. This is activated by simply enabling it in Windows' advanced display settings - much like you'd do with both the Philips and AOC.
Acer, however, have taken this one step further, as you also have the option to overclock the monitor's refresh rate all the way up to 120Hz using its onboard menu system. This is something the Philips and AOC can't do, which starts to explain why the Predator Z35p costs so much more. Of course, you'll need a fairly hefty graphics card in order to run games at 120fps at 3440x1440, but is it really worth paying such a premium for an extra 20 frames? Personally, I'd say no, but you may think otherwise.
The Predator Z35p also gives you a bucket more display options than its rivals, but even these feel superfluous when its ultra-wide VA panel produces such an excellent picture straight out of the box. There are eight profiles in total, three of which are special 'gamer' modes that can be adjusted and customised to your liking, but I left the Z35p on the default User mode throughout my testing as this proved to be the most accurate starting base.
Here, even the fixed Warm colour temperature profile covered 99.0% of the sRGB colour gamut profile when I tested it with my i1 DisplayPro calibrator, and I was only able to increase it by 0.2% when I switched to the User colour temperature profile to rein in its slight green bias. I mean, it's very generous of Acer to include both RGB and CMY options, not to mention gamma, adaptive contrast and dark boost settings, but when you've got a near pitch perfect picture anyway, it's also completely unnecessary.
The Z35p is also a lot brighter than the Philips and AOC, topping out at around 326cd/m2, but you won't need anything near this for everyday use. Still, at least it provides a bit more leeway than its rivals, and you also get a blue light filter option to help ease potential eye strain. However, this switches the monitor into a specific blue light colour temperature profile, so any adjustments you make on other colour temperature profiles won't carry over.
Its black level was roughly the same as the Philips and AOC at 0.13cd/m2 (the closer to 0.00cd/m2, the better), but its contrast ratio of 2005:1 puts it ahead of both, helping it produce more fine detail in darker shadow areas than its rivals. The aforementioned dark boost settings will help brighten areas further, too, which may be handy on a sunny day if you're playing something particularly gloomy, but on the whole I found this often wiped out a lot of detail rather than enhance it, so it's probably best left turned off in favour of shutting your curtains.
Still, at least the Z35p's menu is reasonably easy to use should you need to change any settings, which is more than can be said for the AOC. Not only is it sensibly laid out, but all of its button prompts are clearly labelled, too, requiring little to no head gymnastics as you navigate in and out of its tabs.
Another improvement the Z35p has over the AOC is the presence of four USB3 ports as opposed to just two, bringing it in line with the Philips. One of them can charge your phone and other devices, too, once you've enabled USB charging in the onboard menu, and they're also a heck of a lot easier to access as well, located simply on the back panel rather than underneath in some tiny plastic cavity you can only reach with some blind fumbling.
Ultimately, though, I'm not sure all this is worth the extra cash. There's no denying the Acer Predator Z35p is a lovely monitor, but when the Philips 349X7JEW costs so much less, takes up less room and comes with just as good a screen, it seems silly to say, 'Actually, I'd like to ignore this cheaper monitor and pay massively over the odds for this one instead.' Yes, the Philips only has AMD FreeSync support rather than G-Sync, but right now it's still the best way to get a great 21:9 display for the least amount of money.
However, if you're adamant about having Nvidia's adaptive frame rate tech to help shore up your graphics card, then I'd probably still opt for the cheaper AOC Agon AG32UCG, despite the fact it only has two USB ports. The Acer Predator Z35p does a lot of things right, but it's just not worth it at current prices. Will Dell's Alienware AW3418DW fare any better? I'll be finding out very soon.