Baldur's Gate 3 will (maybe) hit early access in August... and that trailer got me well excited
Consider your predicament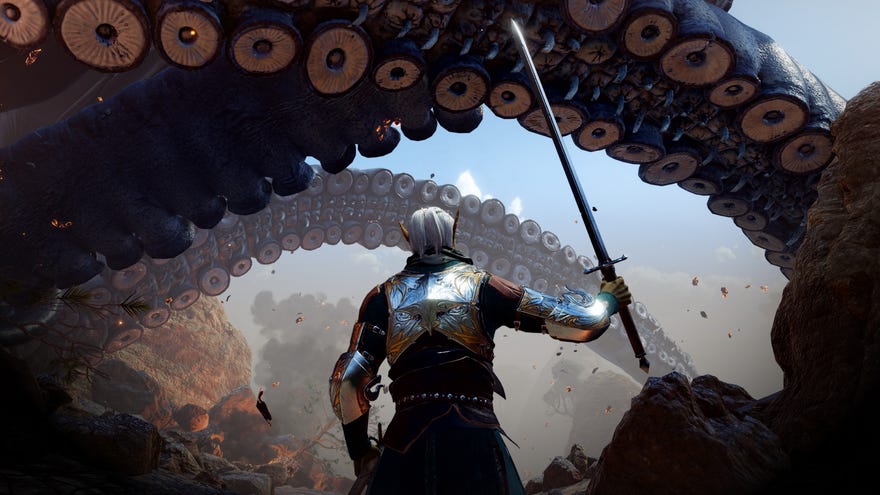 Today's Guerilla Collective stream treated us to two tasty nuggets from the Forgotten Realms, as Baldur's Gate 3 got its first official trailer, and also a tentative early access release date of "August (Maybe)". That 'Maybe' is, understandably, doing a lot of heavy lifting right now, as developers Larian Studios can't be certain what will and won't be possible under the looming spectre of the Covid-19 virus in the months to come. But after watching a load of cool devil men, goth hobbits and Shakespeares make their slow-motion preparations for battle, accompanied by some of the best pump-up music I've encountered in a while, I'm just gonna have to be optimistic.
You really should watch the trailer before we discuss it, so you can get yourself up to speed, and get the aforementioned pump-up music stuck in your head - it's right here:
It's good, right? I'm not as up to speed on BG3 as I'd like to be, as it's Alice Bee and VidBud Matthew who've been keeping tabs on it for the most part, but I'll have a stab at explaining what's going on. There's this devil man, see, who's got a lovely dinner set out, and he's taking the piss out of you because you've got two brains and you don't know what to do with them.
He tells you that you've got no chance of sorting out your double brain problem, and we know this because we see a quick shot of a Shakespeare looking really sad at a bit of burning paper.
After showing you loads more people looking dismayed, the devil man (who I'm now presuming cut the trailer together) says that eventually you're going to have to go to him about a solution, because he's some sort of amazing brain doctor. But he's also, importantly, a devil man, and sounds really smug about your inevitable visit to him. I suspect he charges loads of money.
Anyway, whatever his deal is, it really pisses off everyone else in the trailer, because as soon as he says it they all start getting out swords in slow motion. There's a guy who looks like if Frodo Baggins got really into Sisters Of Mercy, and an elf who looks like he's about to absolutely trash a massive octopus, and the Shakespeare again, who's now just sort of gesturing helplessly at the air because he doesn't know what's going on.
I don't really know what's going on, if I'm honest. But that doesn't really matter. I saw an owlbear in there somewhere, and that - on top of everything else RPS has seen so far - is enough to get me thoroughly stoked. Not as stoked as Larian Founder Swen Vincke, however, who announced the game's probably early access debut in August with what was the most adorable moment of not-E3 by a mile. Literally bursting through the end of his own trailer, roaring the main refrain from the music and swinging some sort of LARP weapon at the viewer, he had the energy of a kid who'd been given permission to use his dad's camcorder, and decided to make his own fantasy epic.
Recovering swiftly from his antics, he said that Larian have made a decent go of adjusting to the new normal, and that performance capture for the game had resumed. There were some reassuring shots of people fiddling with sound levels, and actors in black suits covered in golf balls, to prove it and all. If I'm any judge of tone, his excitement made it sound like the "Maybe" caveat might actually be more of a "Probably", but that he didn't want to get a load of peoples' hopes up. Which is fair enough!
We still don't know exactly what's gonna be in BG3 in its Early Access form, but apparently we'll find out soon. So hold onto your owlbears, and we'll give you more as we have it.
Whatever you call it, hit our E3 2020 tag for more from this summer's blast of gaming announcements, trailers, and miscellaneous marketing. Check out the PC games at the PlayStation 5 show, everything at the PC Gaming Show, and all the trailers from the Xbox showcase, for starters.