inXile show off combat in The Bard's Tale 4
Thwack!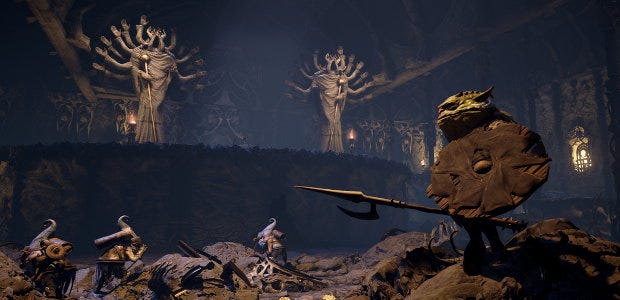 Torment: Tides of Numenera is almost upon us (February 28th) but let's not forget the crowdfunded retromancers at inXile Entertainment have another game on the go. A new video shows progress on The Bard's Tale 4, inXile's revival of the old fantasy RPG series, including a bit of wandering and a first peek at its combat in action. Point your peepers this-a-way:
inXile explain more of the workings in an accompanying Kickstarter post, including this explanation of some fighty bits:
"On the game HUD, you can see your party occupying 2 rows of 4 spaces each. Enemies will line up on the opposite grid with the same number of slots. The exact positioning of enemies, as well as your own party, will determine which attacks can land, and which will swing wild past their mark.

"Another system you are seeing in place is opportunity. The blue and yellow gems on the HUD represent your party's and your enemy's opportunity. Opportunity is a shared resource that each side has, and it is granted each turn in combat. Unlike some other games where you will be forced to use action points for each character (or skip their turn), opportunity is a bit like a shared action point pool. The flexibility of this system means that party members can set up multi-hit combos, reposition for multiple attacks, or evade danger more effectively.

"One thing that is harder to see in the video is our input queuing system. When you take an action in combat, you can begin ordering another party member before the action has played out. Although we intentionally slowed things down for the video to keep it a bit easier to follow, in practice this keeps the flow of combat moving along faster than a traditional turn-based system."
The Bard's Tale 4 is tentatively scheduled for launch later this year.