Battalion 1944 revamps and fixes much in 'major' update
Had a good heart but did need fixing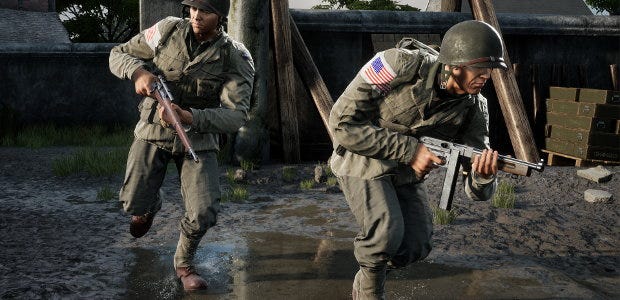 "TOTAL REWORK," declares a trailer for Battalion 1944's new free update. "THE COMMUNITY HAS BEEN HEARD."
Bulkhead Interactive's World War 2 multiplayer FPS got off to a rocky start in early access, see. Our Alec admired what he played, even if his clicking finger has grown slow and preoccupied in his old age, but he did note a number of problems - and players did too. Five months later, the game's second "major" early access update arrived today with rebalanced weapons, a new map, a new mode, performance improvements, and a broad prettying-up including new player models and map polish.
The patch notes highlight the following as the biggest changes, then go into more detail on these and all the rest.
Wartide 2.0 - Entirely revamped & improved competitive gamemode.
Introducing 'BattleRank' Beta 2018 - Our free seasonal cosmetic progression system.
Revamped Movement System - Improved lean, jumpshot nerf, smoother movement.
New Competitive Map - Savoia, Italy
New Weapons - MP28 & Grease Gun.
Reworked Weapon Balance - Varied Weapon Choice & Sniper Nerfs.
LAN Server Support - Including Grenade Training (Strat Mode).
New HD Renderer - Improved visuals take Battalion 1944 visuals into the next generation.
New Matchmaking System - Increased Stability.
Huge Performance Optimisations - Solid 120+ FPS on most systems.
New HD Sound Engine - Advanced Sound Attenuation.
EXPERIMENTAL - Added Bots to fill empty server slots - Can be possessed by dead players.
EXPERIMENTAL - Added Work In Progress Match Replay system (Third Person ONLY)
Early access programs are intended to give time for players to make fixes and changes like this, taking a game from playable concept to all-singing, all-dancing full game. But this can backfire in multiplayer games--which are always fighting to hold onto players anyway--when your existing big fans jump in, are put off by bugs and other problems, and can grow sick of the game before it's even properly launched.
"THE COMMUNITY HAS BEEN HEARD" does make me slightly imagine the devs waving a white flag from behind their desks but ah, such is game development these days.
Battalion 1944 is out now on Steam Early Access for £11.39/€14.99/$14.99. It's expected to launch in full in early 2019. Before then, Bulkhead and publishers Square Enix Collective plan to hold a tournament with a $50,000 prize pool on September 27-30. I wonder which lewd organ they'll draw on guns this time.