Battlefield 1 details DLC, holding trial this weekend
Frenchman and Hussars and horrors oh my!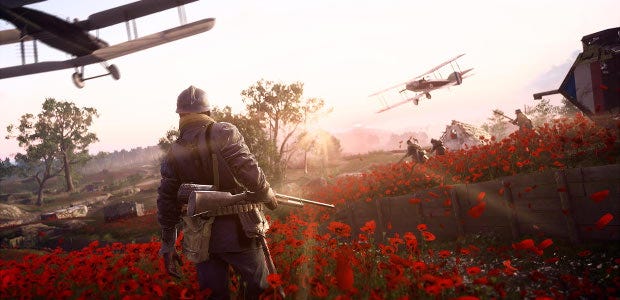 With the first Battlefield 1 [official site] DLC due to arrive some time this March, adding the mystifyingly-excluded French army, EA have started gabbing more about the other expansion packs. Hussars and destroyers and nightmarish horrors, oh my!
EA have also announced that a free trial is coming this weekend, letting folks play for ten hours with bits of multiplayer and singleplayer.
"You'll get 10 hours of play time with 4 multiplayer modes on 5 maps," EA say. "You can also play the first two War Stories of the game's acclaimed single player."
The trial will run from 1pm (UK time) on Friday, March 3rd through to 6pm on Monday the 6th. Yup, it'll be through Origin. Oh, Battlefield 1 is currently half-price in EA's current Origin sale too.
As for the expansions (covered by the £40 DLC season pass), they now say:
They Shall Not Pass
Play as one of the most ferocious armies in WW1 – the French. Engage in the savage fighting around the furnace of Verdun, and descend into the bowels of Fort de Vaux where barbarous battles rage in the gas-filled corridors. Take part in the largest tank assault of the war by the Aisne riverbanks.

In the Name of the Tsar
Enter the biggest front of WW1 with the Russian Army. Ride in Galicia with the legendary Hussars during the Brusilov offensive. Partake in the skirmishes of the Albion assault in a freezing archipelago and fight in the snow covered ravines of the treacherous Lupkow Pass.

Turning Tides
Participate in the amphibious warfare of WW1. Embark with the new destroyer into intense tactical naval clashes. Master the coastal class airship in the fierce interplay between land, air and sea. Engage in the daredevil Zeebrugge raid and storm the beaches in the first days of the Gallipoli offensive.

Apocalypse
Go over the top in the most infamous battles of WW1. Conquer bitterly contested ground with brutal tools and unique weapons born out of desperation and deadlock. Never before have the nightmarish horrors of the Great War been closer as you descend into hell. Prepare to enter the Apocalypse.
That blurb for Apocalypse is weird, innit? For all EA and DICE have talked about wanting Battlefield 1 to be an emotional, thought-provoking, and respectful take on World War 1, here they are saying their game is gnarly, wikkid sikk, and totally tubuluar because it's based on something truly horrific.
Battlefield is a digital adaptation of children chasing each other round the playground with their arms outstretched like wings, proud of how their machinegun noise is better than anyone else's, and that's fine. It's fun! But mate, come on: let's not pretend. The posturing about maturity only highlights immaturity.