Battlefield 1 to let your grubby mates play new maps
Friends who fly together, die together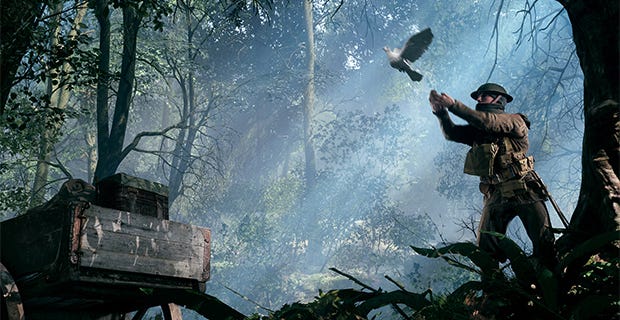 First-person mustard-gasser Battlefield 1 [official site] is set to allow friends of season pass holders to play on all current and future DLC maps, the shootmen at Dice have announced. This system of keeping buddies together no matter where they want to die is called 'Premium Friends', which sounds like a weird mail-order service for lonely people but is actually quite a savvy move by the gun scoundrels at EA.

A testing phase starts on the morrow. From that moment, if just one person in your party of soldiers owns a Premium pass, then you'll all be able to play on new maps and modes. There is a catch though. You can't earn XP while fighting on a map you don't currently own. Only the poshos with Premium or that particular expansion will see their XP meter tick up. The rest of you are scum.
Here comes the real hook though. "We will save the XP for everyone else and grant them retroactively," says Andreas Skoglund of Dice, "if they decide to get the Battlefield 1 Premium Pass for themselves." Hmmmmmm. On the one hand, that's a good way to demo your new maps to the unwashed masses. On the other hand, it also fits with the dark arts of videogame psychology – witholding and "banking" something that people feel they've earned and that you know they crave, then offering to hand it back for a few bucks. Still, there are worse practices.
If you're a mate clinging onto a Premo's legs, you also won't be able to spawn with weapons or vehicles unique to the map you're playing, although you will presumably still be able to pick up or hijack them. Medals and codices of each expansion are also off-limits to freeloaders. In all other ways, the map is open and you are free to die in the mud or sand in whatever way you please.