Beauty Beheld: Legend Of Grimrock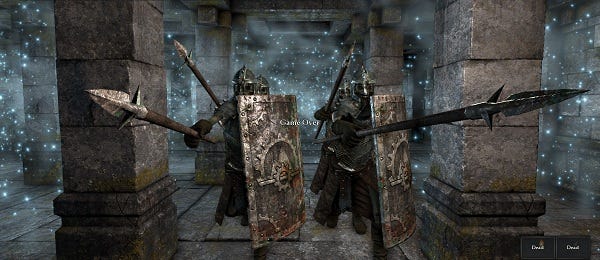 When he first laid eyes on it, grid-based RPG Legend of Grimrock caused John to claw at the screen in a futile attempt to get his hands on it. I'm not sure if he always plays games by plucking them out of his monitor and laying them out on a coffee table but it may be the case. Along with the announcement of a delay until early next year, developers Almost Human send word that the project has reached beta. There's a new video as well, which manages to excite me by showing inventory management the likes of which it's all too easy to desire romantic liaisons with. Then there are the puzzles, the pressure plates, the man casually falling into a pit...I AM CLAWING AT THE SCREEN
The only thing about the video that doesn't make me happy is the lack of variety in the monsters. But snail punching is already confirmed and hopefully there will be plenty of surprises. Some sort of rust monster to destroy all of my precious equipment would cause equal amounts of delight and dismay.
While waiting, let's not be disappointed about the delay because the reasoning provided is entirely sensible.
...many of you have been asking if we're on time for launch at the end of this year. Looking at the game we have now we could do it but that wouldn't be the best game we can deliver. We want to make this game really shine so that's why we have decided to push the release to early next year. With the extra time we can hopefully fix all the bugs, make the level flow better, tweak item attributes to perfection and adjust the balance to be just right.
As for distribution, Almost Human are understandably keen to have the game on Steam.
...it's simply the biggest digital distribution service on the PC and we want to make the game available for the largest audience possible. For that to happen we need to pass their evaluation process, so we really hope that the guys at Valve like our game!
It certainly looks like there could be a great deal to like.