Jade and Pey'j return in Beyond Good & Evil 2
I love you, Uncle Pey'j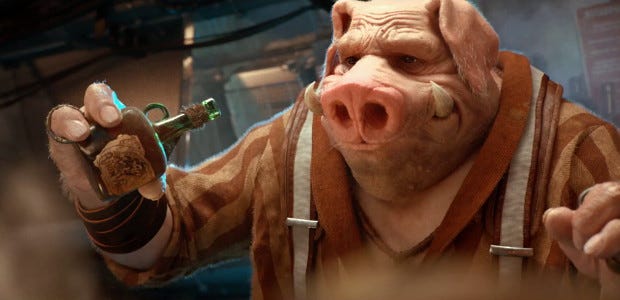 A new Beyond Good & Evil 2 trailer hot out of E3 reveals that Ubisoft's sequel/prequel isn't nearly as far removed from the first game as assumed, as both Jade and Pey'j are in it. It's pretty cryptic, as Jade seems to be with those naughty Alpha Sections, but I'm just so happy to see my dear uncle Pey'j again.
Ubisoft also announced a scheme to include fan-made artwork and music in the game--and pay the creators for it--through Joseph Gordon-Levitt's Hit Record. Hmm!
First up, the new cinematic trailer which raises more questions than it answers:
The very first trailer for BG&E2 all those years ago showed Jade and Pey'j, of course, but this new game seems basically a whole separate affair. How do Jade and Pey'j get from here to running an orphanage in a lighthouse together? I suppose we'll find out as we run a spacepirate crew getting up to spacehijinks. I do like that crew and oh, that game's whole style. Be a lovely place to explore with a pal in co-op.
Ubi want to borrow your style too. Through Hit Record, they're soliciting submissions for all sorts of art to add to the world. Songs for the pirate radio station, state prograganda posters, revolutionary murals, religious murals, radio stings, geoglyphs to mark planets... things that aren't the bulk of the game but will add flavour.
It's an interesting approach to getting a variety of styles into the game, fitting its style of smooshing loads of cultures together, but it is basically spec work trading on fan goodwill. People will be paid if their work is accepted into the game, at least, but in an industry which already treats labour terribly it's iffy.
Beyond Good & Evil 2 is coming... naw, Ubisoft know better than to talk about that already. It is still strange to see Ubisoft present Beyond Good & Evil 2 as a game that actually is happening for really reals this time, and I don't entirely trust it, but I'm certainly glad to see more of it.
Check out our E3 2018 tag for more announcements, trailers, news, and goodness knows what else.