Bird Watching: The Pigeon Dating Sim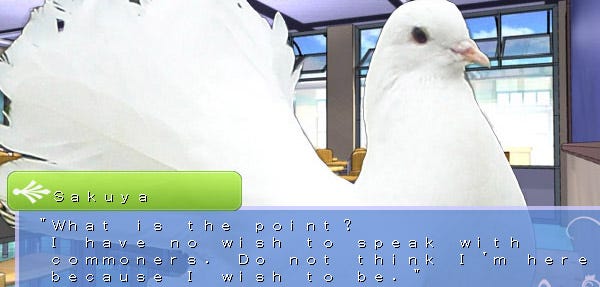 The words, I do not have them. Hatoful Boyfriend is a game about the lives, loves, classes and picnics of young, argumentative pigeons and their pigeon teachers at the world's only pigeon school. It's more a visual novel than a game, but you do get to make a few choices and increase your (human, pigeon-fancying) character's stats and... well, it's about dating pigeons. And going to a posh school for pigeons. I would imagine that's reason enough to play it.

It's clearly one big gag rather than a forlorn fetish, but don't let that stop you. First you'll need the game itself, but because that's in Japanese you'll then need the English dialogue patch. The rest, I leave for you to discover. If you're impatient, a poorly-translated video of some of the Japanese version is below.
So there's that.
Via Simon Parkin.