Blackrock Hearthstone Is On The Way
HOT DIGI-CARDBOARD JOURNALISM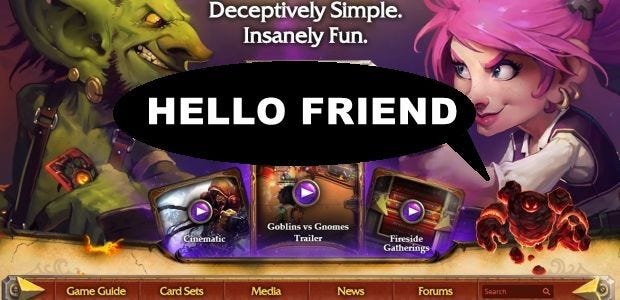 Churn that rumour mill, sprinkle the leak flour and get ready for some delicious card butter, Hearthstone [official site] is (almost certainly) getting a new expansion. Ahead of Blizzard's PAX East panel that will showcase more details on Heroes of the Storm [official site], Overwatch [official site] and the card battler, the Hearthstone site has been updated with some minor teases. There's also been a number of leaked/faked cards passed around the various corners of the internet, which I've gathered here. Meet them well below.
According to a post on fansite HearthPwn, along with the Lava Surger I've picked out above the rotation of cards on the main site has been changed to ones referencing the recently reinstated WoW dungeons of Molten Core and Blackrock Spire. As some of the most well loved and easily recognised areas in the game, this is being taken as an indication that the next update will bring an adventure akin to the quite good Naxxramas one from last year.
There's no hint of what will be said about Heroes and Overwatch, but with the biggest of brass there for both games it's likely large announcements of the timelines for release and beta periods.
As for new cards, here's what the internet's found/made so far and my unique Is It Real Rating™ for each:
Shaky Cam: 7/10 - Card readable even though you're making a sharp exit stage left.
Balance: 0/10 - Are you kidding, Blizzard? Worst game ever.
Real Realness™: 10/10 - Possibly the realest card on our list.
Shaky Cam: 3/10 - Good effort but the boss was clearly walking over while this was taken.
Balance: 0/10 - MORE Shaman buffs? Worst game ever.
Real Realness™: 2/10 - Name containing none of EPIC, TITANTIC or RADTACULAR? Try harder.
Shaky Cam: 9/10 - Part of the card cut off? Basically unreadable? Now that's shaky cam.
Balance: 0/10 - It literally kills my opponent. Actual worst game ever.
Real Realness™: 3/10 - ALL FIVE PIECES OF THE PUZZLE
Shaky Cam: 5/10 - Average. Could be a badly timed sneeze rather than sneakily snapped.
Balance: 0/10 - Makes me not even play the game. Which is fine, because it's the worst. Ever.
Real Realness™: 6/10 - Health more likely 3. Then numbers on card count up from 2.
Shaky Cam: 10/10 - Now this is shaky camming. A work of art. They should have sent a poet.
Balance: 0/10 - You're making me physically ill. I'm quitting for my health.
Real Realness™: 9/10 - Definitely fits with Blizzard's psycho definition of 'fun.'
Shaky Cam: 1/10 - Two for ones are cheating! One point for cutting off half the details.
Balance: 0/10 - ON MY OPPONENTS TURN ARE YOU KIDD-OH GOD MY BILE GLAD BURST
Real Realness™: 8/10 - Mechanics that are impossible within the game engine? Double bluff innit.
Shaky Cam: 8/10 - That's a sexy slant, oh baby.
Balance: 10/10 - This seems perfectly fine to me.
Real Realness™: 100/10 - Well I don't think anyone can argue with this.