Blizzard to release Hearthstone pop-up book
Book of spells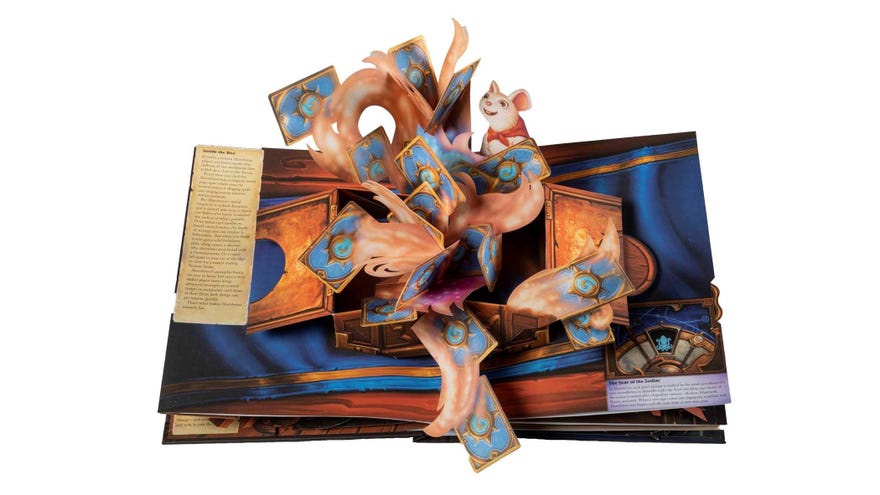 If you were to hear that a digital collectable card game like Hearthstone is going to bring something out in a paper format, you would probably expect a run of physical cards. But that's not what Blizzard has gone for – instead, they're producing a pop-up book, very simply called 'The Hearthstone Pop-up Book.'
The book's description says that it'll follow "the nine major heroes" which is fine, but I hope we also get more info about some of the other characters on the cover. How is Ava from the Hearth and Home trailer doing after being whisked out of a snowy forest and into the tavern? I want to follow the adventures of Sarge, the Innkeeper's companion mouse, who's referred to officially as "frequently a hero." And can we please get some Bertie lore? (She's the pink haired gnome lady and, yes, I would play an entire game – or read an entire pop up book – dedicated to her.)
Anyway, the book claims that it will be "a charming story told with the game's signature wit and whimsy." Hearthstone is not well known for taking itself or its source material too seriously, so with any luck it'll provide some needed levity after everything that's been going on in World of Warcraft, which I hear is, well, not especially whimsical.
So far, the "pops" themselves appear to include the tavern, a Priest vs. Warlock showdown on the Orgrimmar board, and multiple explosions of cards. I'm not sure exactly how these things work, but the one in the top image definitely looks like it should just crunch in on itself in a disastrous mess when you close the page, so, I'm impressed that it presumably doesn't do that.
According to Amazon UK, the book will be released on Tuesday, October 2nd and will cost £40, but it looks like US-based readers might need to wait a little longer – the listed release date on Amazon over there is November 6th.