Bloodline Champions' Spiritual Successor Battlerite Up For Early Access
More things to shoot!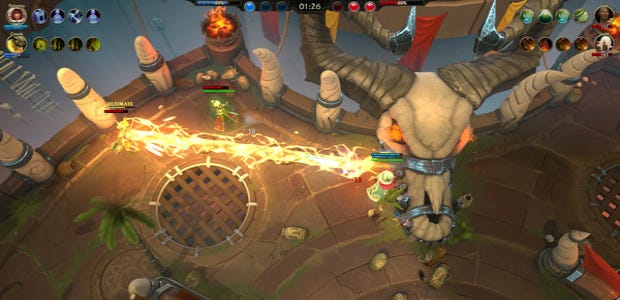 Fancy a new PvP arena brawler? Battlerite [official site] may be your cup of tea. Made by Bloodline Champions developers Stunlock Studios and billed as that game's "spiritual successor", it's got colorful heroes, things to shoot, and whatever "battlerites" are. That sounds like it might be fun!
Take it to the battle arena with 15 characters to square off against enemies with as Battlerite is now available to play via Steam Early Access. If you like top-down brawls with bullets flying everywhere willy-nilly and team-based combat (when your team actually cooperates with you, anyway) this might be something you want to pick up.
Stunlock are also experimenting with VR tech to implement after Battlerite's final release, where you can use a feature called "Pinch-To-Zoom-3D" that lets you zoom in and check out the action via virtual colosseum. This means you can definitely zoom in closer to watch people shoot each other better, and it will probably be an interesting feature for anyone who, you know, likes to watch.
Pick up Battlerite via Early Access on Steam now for £13.49/17,99€/$17.99. Stunlock plan to properly launch Battlerite in 2017, by the end of March. Until then, they'll work on things like balance tweaks, new Champions, and new arenas.