Borderlands 2 Livestream Now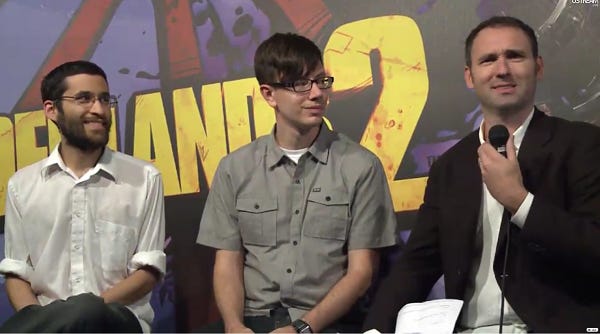 I just saw over at VG247 that the Borderlands 2 livestream over at Gamescom has just started. Now. Let's kick back and watch it together. I'll go stick the kettle on. Right now they are talking about guns. GUNS!
Update: It's now over, read on to find a summary of what you missed.
First, here's some of the community-driven changes they've talked about implementing for the Borderlands sequel. Apparently they've taken on feedback from a wide range of sources (presumably not any shoddy journalists though) and brought in the most requested features and fixes.
New in the sequel are:
Splitscreen online.
You can trade items with other players in a "reasonable way".
The UI have been "nearly entirely reworked. The splitscreen skill tree is way better". There's lots of talk of columns!
There are now "no problems with eligibility for multiplayer". From the sounds of things they've come up for a way for players of different levels to easily play together but keeping things balanced for everyone. Sounds mathsy.
They're aiming to have a lot more diversity in the environments. I heard one of them say "Tundra".
There will be a New game+ mode.
They also spoke of "refined" vehicle controls, with power-sliding and "independent suspension". Randy Pitchford also suggested that they might try to support both Halo style point and go controls, and direct steering: "As a gamer, I want both."
More on Borderlands 2 as we are given access to it by the publisher.