Botanicula: Team Samorost & Chums' Latest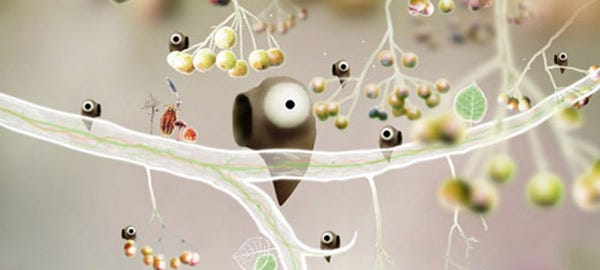 Aw, basically. This is the first teaser for a 'point and click exploration game' due from Amanita Design (they of Samorost and Machinarium) in conjunction with animator and sometime collaborator Jára Plachý, and it's really quite adorable. Also visually and sonically nuts, as is the Amanita modus operandi.

Says Amanita's Jakub Dvosrky, "It's about a bunch of five friends - little tree creatures who set out for a journey to save the last seed from their home tree which is infested by evil parasites." As opposed to heroic parasites, presumably. Dvorsky told us a little more about Botanicula, one of three planned new games from the Czech studio, back in March - readeth that here. Here's what the game looks and sounds like:
Definitely on the 'lovely' end of the spectrum, don't you think? Also on the 'weird hooting noises' end of it.
Botanicula has a website, but all you'll find on it so far is the above video. Presumably there'll be more added before this PC/Mac/maybe mobile adventure's mooted early 2012 release.