Machinarium rebuilds robo-buddy in new engine
Robobuddy 2.0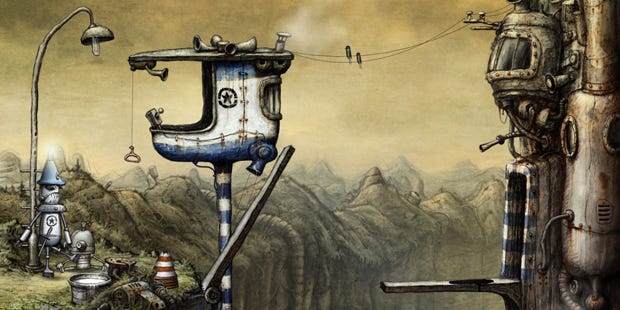 John is our usual Amanita correspondent but he's off on hollybobs so I get to poke about in the gorgeous world of Machinarium [official site] this time! The reason the eight-year-old game is back in our newsbox is because it's swapping Adobe Flash for a custom engine. So far so technical. What does it actually mean?
WELL!
"It's using DirectX and the game feels much smoother, but most importantly, Machinarium now plays in full screen, even on modern Full HD and 4K displays."
This sounds DELICIOUS.
Skimming through a full changelog there's the engine change itself and the full screen support, but the log also flags up support for official Xbox pads, Steam cloud saves, leaderboards if you fancy speedrunning or comparing distances travelled while playing and language localisation.
In as far as I've played Machinarium I remember it being very much a point and click about pointing and clicking rather than using conversation trees or even verb boxes so the language localisation must be more about making the interface accessible for loading and saving and accessing settings. Even the walkthrough pages and hints are pictorial rather than verbal.
This revamp is perfectly timed for me. Machinarium is a game I've had recommended to me so many times because of how lovely it is but I stalled out when I first played it - probably frustrated with some puzzle - and haven't gone back. Well. I did go back a few years ago but the lack of full screen made the experience feel cramped and I couldn't sink into it. I'm hoping this revamp (plus the fact there are hints and walkthrough bits I don't remember it having before?) opens the game up to me. I'll play it over a cuppa this weekend!
The Windows update should be live from now (6pm BST, 10am PDT) on Steam so as to coincide with the Summer Sale where Machinarium has a 75% discount. A Mac version is expected to follow in a few weeks. Oh! And the email notes "there will be a new digital art book available for purchase with the soundtrack." I've been leafing/scrolling through that PDF already and I can confirm it's as charming as you'd expect!