Papercraft Adventuring: Papetura Demo
Explore a paper whale's guts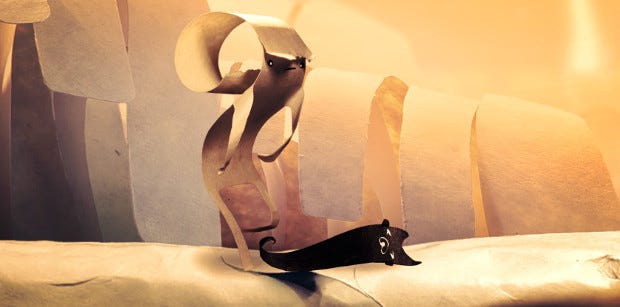 Papetura [official site] is one of the prettiest handcrafted games I've played. It's an adventure game, as these things often are, starring a paper curl of a chap and his little... cat? on strange travels through a magical paper world with the most beautiful spotlighting making everything glow. A short (short!) demo is up for download on its site or playable in your browser, starting you off being swallowed by a paper whale, and developers Petums are trying the crowdfunding lark.
Look, just look at how the demo starts and tell me this isn't delightful:
The demo isn't much longer than that, mind, with only one short and simple puzzle but I'm certainly keen to see an awful lot more. Petums point out games like The Neverhood and Machinarium as adventuring inspirations, and they're hoping to nab Machinarium composer Floex for the soundtrack too.
The tiny studio are looking for $13,000 (£8,600-ish) on Indiegogo to finish development, planning to release it on Windows, Mac, and Linux towards the end of 2016. Pledging at least $9 (£6) would get you a copy of the finished game. They say it'll be 2-3 hours long.
Gosh, and look at how they make all these pretty little things: