Boy Meats World: Super Meat Boy Mega-Patch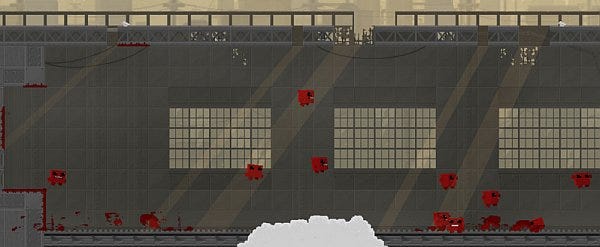 There are now over 500 levels in bastard-hard platform gem Super Meat Boy. Over 500. This absurd milestone has been reached as a result of a dramatic new update, known in continually Nintendo-prodding fashion as Super Meat World. It's free, it was added to the game on Saturday, and it consists of a slew of new official levels and even more of a slew of approved third-party levels for the blood-smearing jumpy-runny game.

As observed by young Quintin earlier, the game's had 50% knocked off its price as part of Steam's potato-related shenanigans, so now's a fine old time to pick it up if you haven't already. And you can spend the saving on a gamepad, which you honestly, definitely, really would be better off with for this game, despite whatever WASD militancy you may possess.
Team Meat are promising further big-ass updates down the line - specifically the long-awaited level-editor, and the rather joyous prospect of a random level generator. This means you can be punished for ever and ever and ever and ever and ever and ever and ever and ever and