Break out the Jin: Tekken World Tour begins next week
Kicking ass and Tekken names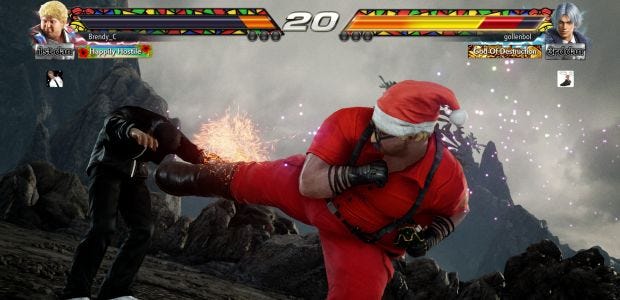 Get ready for the next battles. This year's Tekken World Tour begins next weekend, say organisers Twitch. It's basically a massive Allfather competition encompassing a bunch of baby Tekken tournaments held all over the world. It lasts approximately nine months and culminates in a grand finals tourney in Amsterdam, where 20 fighters including large bears and cyborg ninjas will face off for a share of the $25,000 prize pool. This is big money. For example, the prize for 1st place is $7,500, which is enough to buy 150 copies of fighting game Tekken 7, or 187 of these Paul Phoenix dolls, whichever you prefer.
The full schedule is here, and starts with the Final Round tourney in Georgia, USA on March 16-18. If you want to enter the fight, there will be online pools for each region but we still don't know when they'll be hosted. The exact details "will come at a later date". If you're dying to study the rulebook, however, that's available here. An odd thing about the World Tour is that you can accumulate points by travelling around and fighting in multiple tournaments, like some sort of joystick-wielding ronin.
Last year's TEKKEN World Tour was effectively three tours rolled into one. Events were divided into three regions, and while players could enter events in any of the three regions, they could only earn points in their home region. This led to situations at many events where the biggest chunks of points went unawarded.

The 2018 TEKKEN World Tour will feature one global leaderboard. Players can earn points at every single Tour event in the world. If a European player performs well at an event in the Americas or in the Asia/Pacific region, they will be rewarded for it on the leaderboard.
This feels odd. Doesn't it give an advantage to those with the time and money to criss-cross the country, or even the world? I mean, I guess that's sports. But still, not really in keeping with the spirit of the boast: "just about anyone will have an opportunity to compete."
If you're not aware of the faces and voices of Tekken masters, a good (but long) introduction would be Road to the King of Iron Fist. It's a documentary about the players competing in North America last year . It's a bit shallow when it comes to following the contenders as people, but as broad as an infinite azure when it comes to explaining the scene.
Last year, the grand final was fought between a wide-shouldered robot called Jack, whose occupation is listed as "weapon of destruction", and Jin Kazama, a demon-possessed former crime boss who enjoys "nature therapy". In reality, the contestants were a Korean man in a white turtleneck called Qudans and his fellow countryman, Saint. The winner was Qudans, playing as the nature-loving demon.