Burnout Paradise Remastered will finally bring Big Surf Island to PC
At last!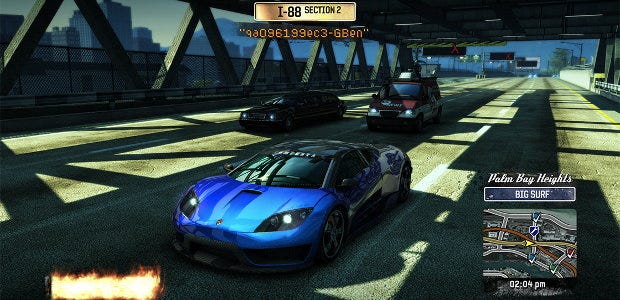 Criterion's fab open-world racer Burnout Paradise is getting fancied up for a re-release later this year, Electronic Arts announced today, ten years after its original launch. Burnout Paradise Remastered, as it's named, is prettified and whatnot, and will include most of the DLC - including the Big Surf Island expansion that skipped PC the first time. Burnout Paradise is good. This new is good. Sadly our version is coming after the console release, but I am still well up for this. Here, look at this announcement trailer:
Burnout Paradise Remastered "features a range of technical enhancements for greater visual fidelity," EA said in today's announcement, "including high resolution textures for players to explore Paradise City in 4K with supporting 60FPS on the PlayStation 4 Pro and Xbox One X." So that's surely all in the PC version too.
Looking at EA's comparison screenshots, I don't know if I dig how noisy and contrast-y some of fancification is, but so it goes.
The re-release will include most of the game's DLC, with the eight paid and free updates from the 'Year of Paradise' season - minus the pay-to-unlock-everything Time Savers DLC. Hopefully they've launched Time Savers into the sun. The most important part is that yes, the big stunt playground area of Big Surf Island will be in Burnout Paradise on PC. Good. Great. Lovely.
Burnout Paradise is good stuff. It throws players into a sandbox city built for racing, with races all over as well as modes like hunting and smashing other players, stunt challenges, capture the flag, and more. I had some great times larking about with my mates and will be glad to revisit. We've declared Paradise one of the best PC games and Hannah Dwan recently wrote about the joys of idly cruising around the city, so there's more reading for you.
While the console launch is on March 16th, ours (through Origin) isn't until an unspecified time "later this year". Burnout Paradise Remastered will cost £35 on consoles, and I assume the same on PC.