Call Of Duty: Infinite Warfare System Requirements
Blopped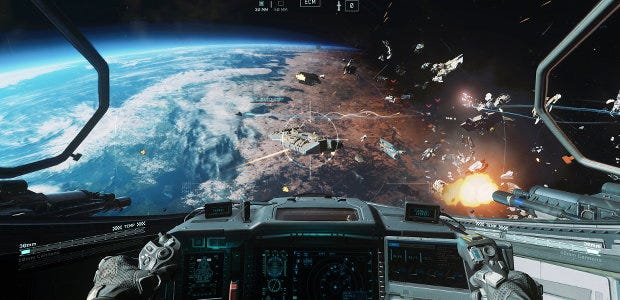 With the launch of Call of Duty: Infinite Warfare [official site] just over a week away, Activision are busy ticking off items on their usual launch checklist.
Make live-action trailer starring celebs because reasons ☑
Announce PC system requirements ☑
Research oddball comparisons for post-launch sales boasts ☐
I'm excited to see what they come up with this year on that last note. Infinite Warfare Twitch livestream minutes watched versus the Superbowl? Dollar sales figures versus the combined value of the shoes of everyone who saw Suicide Squad? We'll have to wait and see! But for those first two, read on.
Activision have now bopped Infinite Warfare's minimum system requirements up on its Steam page. They are:
OS: Windows 7 64-Bit or later
Processor: Intel Core i3-3225 @ 3.30GHz or equivalent
Memory: 8 GB RAM
Graphics: NVIDIA GeForce GTX 660 2GB / AMD Radeon HD 7850 2GB
DirectX: Version 11
Network: Broadband Internet connection
Storage: 70 GB available space
Sound Card: DirectX 11 Compatible
Comparing those to the requirements for last year's Cod Blops 3, you'll need another 2GB of memory, a video card that's a generation or two newer with another gigabyte of RAM, a few hundred extra MHz on your CPU, another 10GB of space... sure, that's maybe to be expected from another year's worth of system upgrades.
That's only the minimum requirement, mind - the system that will run it without catching fire. CoD games tend not to declare recommended system requirements so, er, do it yourself by taking that spec and adding £300 on top.
Call of Duty: Infinite Warfare is due out on November 4th. I really quite like the look of its big daft sci-fi spaceships antics.
As for the customary live-action trailer, this one has fewer #celebs than usual but more #satire: