CD Projekt Red blackmailed with Cyberpunk 2077 files
Cyberpunk'd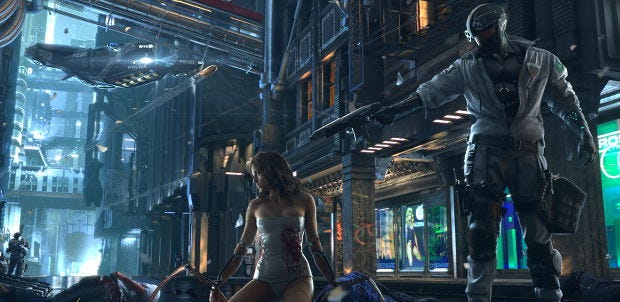 Witcher developer CD Projekt Red have been threatened by an unknown person with the release of design documents about their upcoming RPG, Cyberpunk 2077, unless a ransom is met, the company have said. We don't know the exact number behind that ransom but CD Projekt have rejected them anyway, and have asked people to "avoid any information" not coming from them directly.

"The documents are old and largely unrepresentative of the current vision for the game," they said. "When the time is right, you will hear about Cyberpunk 2077 from us – officially."
You can see the full statement about the threat in this tweet. The blackmailer is described as an "unidentified individual or individuals" who've got their hands on some files from the developer, including some "connected to early designs of the upcoming game, Cyberpunk 2077."
"We will not be giving in to the demands of the individual or individuals that have contacted us, which might eventually lead to the files being published online. The appropriate legal authorities will be informed about the situation."
It's unclear how the files came into the blackmailer(s) hands, whether through hacking, an internal leak or some other way. We've been in touch with CD Projekt to poke for some more information but have been told: "The tweet is all we have to say." An understandable response if the lawmen are due to get involved.
If you are DYING to know what might be coming up for Cyberpunk 2077, remember that it is E3 next week. Plus, you can always look at what the 1980s pen and paper RPG of the same franchise suggests. They've also boasted it is "bigger than anything" they've previously done and have reportedly been researching seamless multiplayer. In the meantime, we'll let you know more about the blackmail if we learn anything juicy.