Here Comes The Paint: Child Of Light Dev Diary
Watercooler watercolours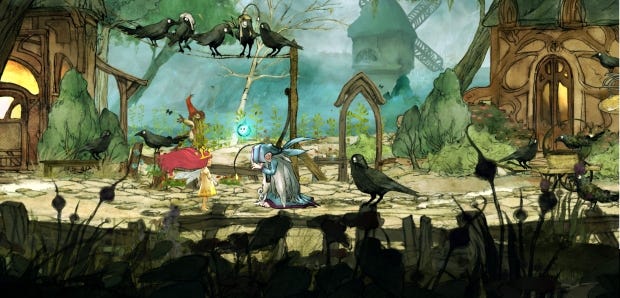 I was at the UbiSoft event where Child Of Light was revealed. It's the first time I've ever been at a press event where an informal queue formed, and the press were ignoring other demos to wait in line to play it. They waited for hours: friends who joined the queue would accost me as I passed* by, begging me to go on a buffet run for them. I'm honestly not exaggerating. Whatever held them in place that day wasn't the game, really. It looks like a 2D platformer thing: there's wandering, it has puzzles, and it has co-op; but the art and atmosphere seemed to reach out like the aroma of a cartoon pie, beckoning people in.
The new dev diary below explains a little about how that came to be, with Ubisoft attempting to capture the essence of a living painting by creating development tools that supported their artists and animators.

Thanks to the UbiArt engine, the concept art the artists create is almost immediately added to the game. There's no attempt to clumsily repackage their artistic expression: it becomes the game.
Why do all fantasy worlds end in "-oria"? Anyway, it's out April 30th.
*I am a cold-hearted mercenary at these events, and there was a new Trials game to play.