Wrestle with climate change in Civilization VI's next expansion, Gathering Storm
Where's Captain Planet's mullet when you need it?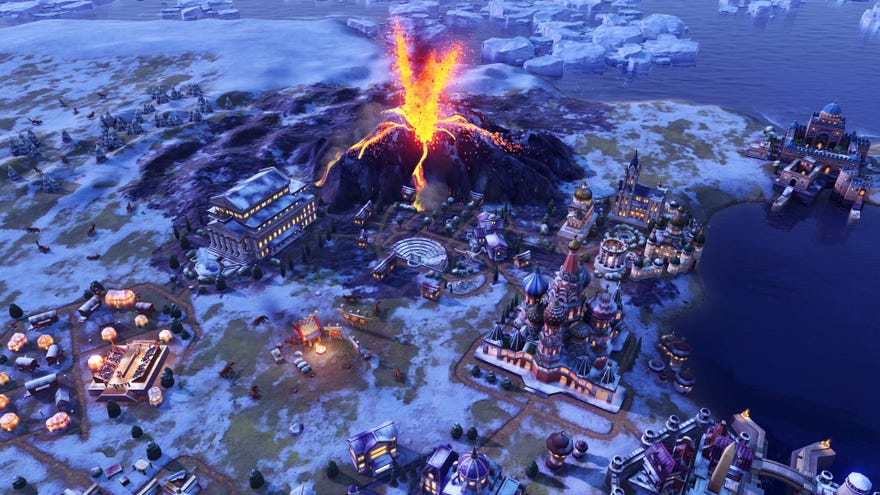 It's easy to forget that human civilisation has only been around for a tiny fraction of Earth's history, and that mother nature is a stone cold killer. Our planet and how we affect it is the focus of Gathering Storm, the second major expansion for Sid Meier's Civilization 6. There are natural disasters capable of levelling entire kingdoms, and the constant, looming threat of man-made destruction if the environment gets too damaged through humanity's reckless ascent. The new expansion launches on February 14th. Check out the announcement trailer below.
Being a major Firaxis expansion, Gathering Storm's feature-set is massive. Just the tip of the potentially melting iceberg is nine new leaders across eight civs. The biggest change are the new underlying systems, including environmental hazards such as volcanoes, earthquakes, floods, sandstorms and more, and the chance of them being exacerbated later on. Strategic resources like coal and oil now require power plants to consume, providing you with wealth at the cost of the region's environment. Renewable alternatives are available, if you want to be nice. If you want.
The later eras of the game are going to be a lot more politically interesting because of these new systems. The new World Congress system allows you to earn global favour from playing nice - upholding promises, spreading social influence and so on. You can then cash in this favour to compel other nations to make promises, sign treaties or swing votes on global resolutions in your favour. There's going to be a new technological era to support these initiatives too, creating new options to adapt to a changing earth, or invest in rolling back the clock to repair damage done.
Because Firaxis also like to cast their net wide, the two new scenarios included - The Black Death and War Machine - focus on wildly different facets of the game. The former has you trying to lead your European nation through a 14th century pandemic. The latter is a multiplayer scenario set at the start of World War 1, with France and Germany jockeying for position in a short, fierce combat campaign. There's a lot on the way with Gathering Storm, and it's reflected in the beefy price tag. The new expansion launches on February 14th.
Sid Meier's Civilization 6: Gathering Storm launches on February 14th for £35/€40/$40. You can find it on Steam, Humble and its official page here.