Crackdown 3 delayed into 2018
And again!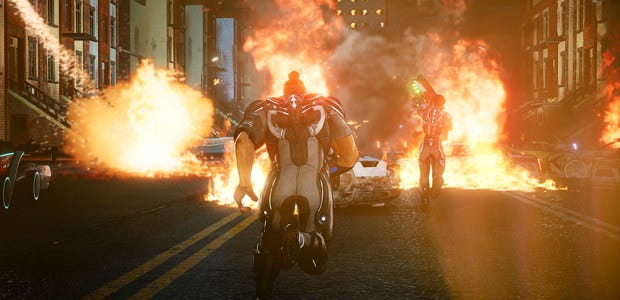 The open-world supercop superfights of Crackdown 3 [official site] need a little more time to become more super, and so has been delayed. It was due on November 7th but has been pushed back into spring 2018. Before then, it was due in 2016. The delay is because the makers want Crackdown 3 to be a good game but it needs more time, yeah? The usual reason for a delay. The usue. The ushe? The usge? The uzhe? The youzhe? The yuzh? The yoozh? The üse? The /juːʒ/. Point is: Crackdown 3 is delayed because making games is difficult and making good games is moreso.
"[...] we want to make sure to deliver the right game, with the right quality, and at the right time," The general manager of Microsoft Studios Publishing, Shannon Loftis, told Polygon.
"Crackdown 3 is a hugely ambitious game and we want to ensure we deliver the right experiences all the way through every part of the game," she said. She highlighted "visual polish" as one task being worked on.
To refresh your memory, Crackdown 3 is a third-person shooter with futurecops duffing up futuregangs across a futurecity. Along the way, you power up until you're leaping blocks with a single bound and raining inappropriate use of force from above. It does boast multiplayer with some fancy cloud-powered destruction physics from Cloudgine, though the smashing is limited to that online action.
Crackdown has stuck to Xboxen so far but, under Microsoft's new "Oh computer is game?" policy, will come to Windows 10 too.
Look, explosions and Terry Crews: