Crate News! Grim Dawn Reveals Combat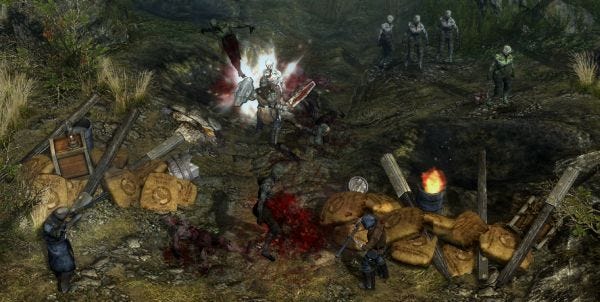 I think Titan Quest is one of the most underrated action RPGs (as we all now so politely call Diablo clones), so it's with a happy face that I see new news of the team's new game, Grim Dawn. From Crate Entertainment - the company formed by many of the former Iron Lore gang - comes some pre-alpha footage, as spotted by PCG. You can watch it below.
This is the Soldier class in an area called the Burrwitch Slums. It's just outside Devil's Crossing - you know the place. It looks... well, it looks like an action RPG. But that's pretty much what you want from an action RPG. Lots and lots of compelling two-hit deaths and loot hoovering, along with multiplayer play with buddies. Sold. And it looks really gorgeous too, not needlessly wavering from the fixed camera and hand-painted ground.
Crate aren't in the same position as Iron Lore - a studio propped up by THQ and Brian Sullivan's wallet. While they managed to secure the rights to the technology behind Titan Quest for their future projects, as well as continuing two unannounced projects that they'd begun work on at the previous studio, they're a small indie with a pre-made reputation. We're very much looking forward to seeing Grim Dawn in more detail.