Danganronpa 2 Heading To PC Next Month
Don't trust the teddybear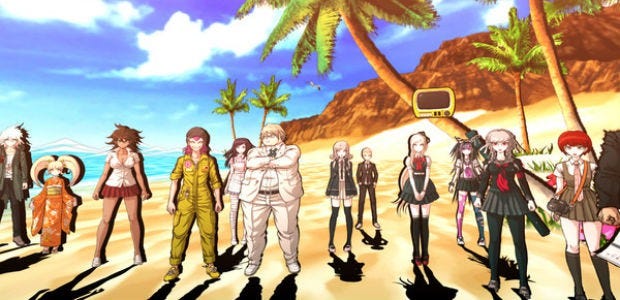 It feels like just last month we were telling you about the PC release of Spike Chunsoft's part murder mystery, part visual novel spectacle Danganronpa: Trigger Happy Havoc, doesn't it? Hang on a second, it was just last month! Despite having been previously released on both the PSP in Japan in 2012, and on the PS Vita in 2014 in the west, Danganronpa 2: Goodbye Despair [official site] is now scheduled to arrive on PC on April 18 - just two months after its forerunner touched down on Steam. Here's a trailer:
As was probably not too obvious at all there, Danganronpa 2 takes place after the events of Trigger Happy Havoc and kicks off with you and your classmates visiting Jabberwock Island for some much needed fun in the sun. Of course, it's not long before the murderous two-tone anime teddy bear Monokuma from the first game reappears, and so begins another bout of Phoenix Wright-inspired sleuthing and investigating as your fellow peers "start dropping like coconuts."
Here's Spike Chunsoft with more on the minutiae of Goodbye Despair's schoolyard crime solving:
You'll go head-to-head in all new minigames with the other students during the Class Trial, shooting down their false truths and using your evidence to uncover what really happened. But watch out! If a student is unconvinced, they'll challenge you to a one-on-one Rebuttal Showdown and force you to defend your argument.

Match up your evidence with your fellow classmates' arguments and determine who's really telling the truth. Once you've got a suspect in your sights, turn up that tropical heat in a variety of timing and reflex-based game systems to reveal the ultimate truth and escape with your life!
In January, Adam spoke of how he hoped Danganronpa's sequels would "arrive sooner rather than later." I doubt he imagined quite so soon, however I don't imagine he's complaining. Goodbye Despair's predecessor, Trigger Happy Havoc, has garnered hundreds of positive reviews since its arrival on Steam less than a month ago, therefore the turnaround is likely down to someone, somewhere finally realising that PC players do enjoy well made Japanese games and that porting them may induce financial returns. Who'd have thunk it?
Danganronpa 2: Goodbye Despair is due to release on April 18 on Steam for $29.99 USD. A UK price is yet to be confirmed, however its forerunner is currently going for £22.99.