Darkness Rising From The Deep: Torchlight Trailer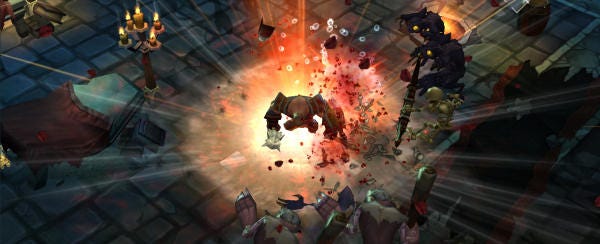 Jim mentioned the rather exciting looking Torchlight last week. A new PAX trailers has appeared, and it's bloody lovely. This is the team who made the mythological Fate, and the ill-fated Mythos. Mythos, created as a tech test for the doomed Hellgate: London (and managing to be the better game) was absolutely fantastic fun. Fate of course is loved and adored by many post-Diablo fans. So there's plenty of reason to be excited to see the team back to developing a dungeon crawler. Especially one this pretty.
I think what I like most about the design for this is quite how absolutely and entirely it waves a bum in the face of people who thought the Diablo 3 screenshots were too colourful. Take this!
It comes out on my birthday! Thanks Runic, it looks like just what I wanted.