Darksiders 3 rides again into the apocalypse November
We are NOT cancelling the apocalypse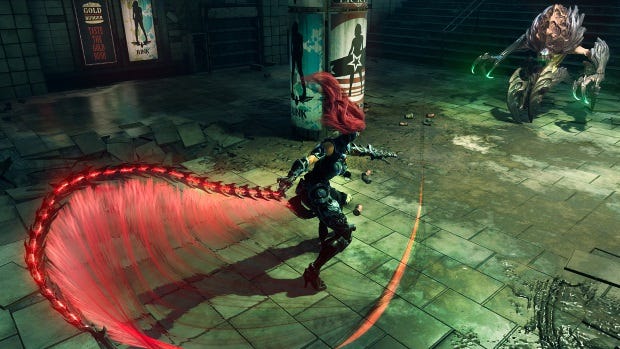 With the collapse of THQ, it seemed impossible that Vigil's series of '90s comic-styled hack n' slash adventures would ever see another game, but here we are, with Darksiders 3 on the way, and due for release this November 27th. Published under the reborn THQ Nordic banner and developed by Gunfire Games (staffed in large part by ex-Vigil people), the third game puts players in the monster-stomping boots of Fury, who is a lady despite being one of the four horsemen of the apocalypse.
From what we've seen of the third game in action it roughly looks similar in style to Darksiders 2, favouring faster action and mobility over the heavyweight, Zelda-esque brawls of the first. We're most likely due for another sprawling post-apocalyptic adventure, featuring a lot of dungeons to crawl, monsters to whip, platforms to clamber over and loot to hoard. Also skellingtons. Lots of skellingtons - they're pretty much a Darksiders staple now.
Along with announcing the release date, THQ Nordic announced two pieces of DLC for the game (included in a somewhat more expensive Deluxe edition of the game), plus a pair of collectors edition boxes. Regular super-fans can buy a big-boxed Collectors Edition of the game with an 11-inch-tall model of new protagonist Fury, while those with far more money than sense (and an almighty love of overblown character designs) can get the Apocalypse Edition, which includes models of all three protagonists, plus demon shopkeeper Vulgrim and some extra goodies.
I admit that I wouldn't mind having those characters lining a shelf (I am a huge dork), but the asking price of just the regular collectors edition box is a wallet-puncturing £130/150€/$150, and the Apocalypse edition's price-tag is a positively silly £350/400€/$400. I don't think I've ever liked any game enough to spend that much.
Darksiders 3 is due on November 27th via Steam, GOG and Humble and will cost £45/60€/$60 for the regular edition, or £60/70€/$70 for the Deluxe version with soundtrack and (future) DLC.