Darksiders Warmastered Edition out now, free for owners of the original
You may already own this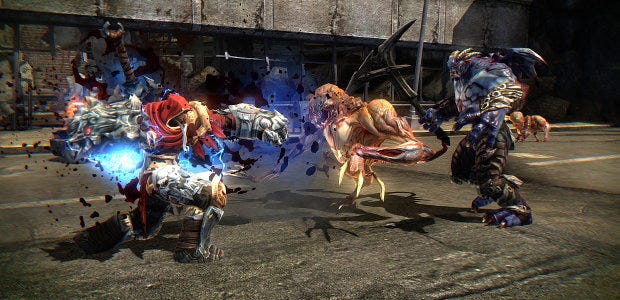 Darksiders: Warmastered Edition [official site] is a terrible name. It's the remastered edition of the original Darksiders, that brawly third-person action game about apocalyptic horse-fancier War, so I can see their thinking. But... no.
It is now out on PC though which is nice, and owners of the original can upgrade for free.
The Warmastered edition doubles the resolution of all the game's textures, adds new video options and support for 4K monitors, and does other fancy rendering things to, for example, improve the shadow quality.
If you bought the original game via a digital store including Steam and GOG then you should now have access to the Warmastered edition for free. If you bought a physical copy meanwhile, then you're a bit out of luck - though apparently the game will have an 80% discount until December 2nd. That makes it £3.39 on Steam and £3.19 on GOG.
We never reviewed the first Darksiders, but I remember it being a pleasant surprise at the time. It, being by THQ, is the sort of game that belongs on our list of the best 7/10 games. Which is why it's on there, in which we said:
Another Classic THQ 7, this is from the hack-slashy fantasy side of things rather than the shooty family, but it has the same compulsive, propulsive, Gotta Slay 'Em All ethos. Vigil's RPG-tinged monster-basher is a game you wouldn't beseech anyone else to play, but one that you have yourself a damned good time with then never think about gain. God rest ya soul, THQ.
Yet here we are thinking about it again right now.
Unfortunately it seems as some users are currently experiencing issues on AMD cards. It's hard to get a sense of the scale of the problem, but a number of people on the Steam forums are reporting framerate drops.
When original publishers THQ went under, Darksiders was bought - along with the THQ name - by publishers Nordic Games. They're now called THQ Nordic, have already done remastering duties on Darksiders II (for the marginally-better-named Deathinitive Edition), and say they have plans to one day make Darksiders III.