Metroidvania roguelike Dead Cells busts out of early access August 7th
No cell can hold this one anymore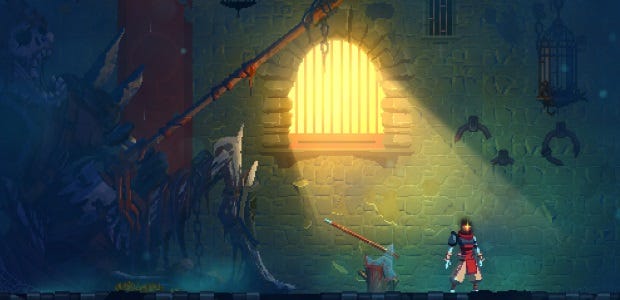 RPS have watched platform roguelike Dead Cells like some sort of many-headed nightmare hawk. Excellent even in its first early access release and steadily improved by patches, its deep combat and huge number of viable play-styles making each run feel fresh enough to keep us coming back. We even declared it the best game of 2017 in a fit of communal enthusiasm.
After a great many updates, it's just about time for developers Motion Twin to put a bow on it and declare the game 'complete' (for the time being) - Dead Cells will be leaving early access and launching on August 7th.
The launch version of Dead Cells will include 13 environments, 4 major bosses (and a slew of mini-bosses along the way), around 80 weapons, spells and skills to use, plus 4 special powers which provide access to new chunks of the complex and branching map in classic metroidvania style. Dead Cells also recently added partial mod support, and its Steam workshop page is gradually filling up with looks, sounds and playmodes.
That's not to say the launch version of Dead Cells will be the end of the road for the game. The release version will finally contain the entire main story arc as planned, with all the environments, bosses and gear needed to get you from A to B without feeling like anything is missing, but there's already more on the drawing board. Motion Twin have already talked about plans for free post-launch DLC in this development blog. They even describe this free DLC as "content heavy" which sounds exciting, considering how much meat is already on Dead Cells's bones.
You can grab Dead Cells now for £22/$25 via Steam, GOG and Humble, and the game will be shedding its early access skin on August 7th.