Dead Island & Riptide Remastered In 'Definitive Editions'
Prettier and deader than ever!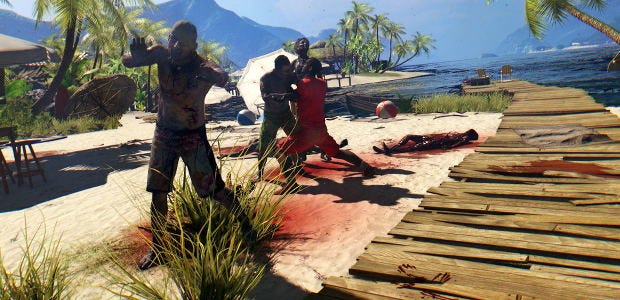 Zombie-slaying FPS-RPG Dead Island [official site] and its 2013 expandalone Dead Island Riptide are being "remastered" in Definitive Editions - more relatively-recent games coming our way again with a new swing in their step after being prettied up for the latest consoles. Too bad someone already took the name Deathinitive Edition, huh?
Out of curiosity, I went back to see what RPS said in 2011 when Dead Island [official site] was re-announced with That Trailer. I'm almost disappointed by John's restraint. I was hoping someone would've declared it "The Citizen Kane of Game Trailers" and I'd get to be gittish to them tomorrow. Curses. Not even "The Old Yeller of Game Trailers"!
The Definitive Editions (how about 'Undeathinitive Edition', Deep Silver?) have been done up with pretties like "redone" higher-resolution textures, a new lighting system with physically-based shading, improved character models, HBAO (that's horizon-based ambient occlusion, acronym addicts!), and new motion blur effects. Shiny things.
Dead Island and Riptide will be sold separately for £14.99/$20, or come together in a £29.99/$40 'Dead Island Definitive Collection' also including a retro-styled action-y endless runner named Dead Island Retro Revenge. Both individual games and the Collection are due on May 31st.
After Dead Island, publishers Deep Silver kept the rights and creators Techland moved on to make Dying Light - which itself recently got fancied-up in the 'Enhanced Edition'. Dying Light picked up an expansion last month too, which Adam really liked.
We still don't know what's going on with Dead Island 2 since Deep Silver decided to "part ways" with developers Yager. Which is a shame, as Dead Island 2 actually sounded quite fun - unlike the strange and awful spin-offs Deep Silver did release.