Dead Island 2 rises from the grave with tower defense tide over
Production is not dead, just quiet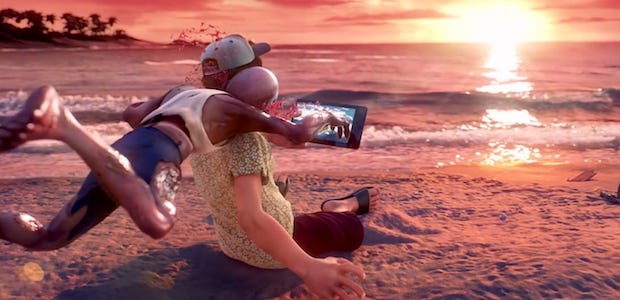 Dead Island 2 is one of my favorite trailers of all time for a game I'd all but given up on seeing. Back in 2014, the studio Yager was developing the then announced title for Deep Silver, and in 2016 the production was moved to Sumo Digital. As a reminder, it is now 2018, so Dead Island 2 and its Santa Monica-ish muder-setting seem like they have been abandoned. That is, until, Deep Silver dropped a free-to-play tower defense game called Dead Island: Survivors. The Internet has some questions about whether this mobile tie-in was taking the place of the long gestating title, and Deep Silver responded.
First, here's the trailer for the new mobile title. I haven't loaded it up yet but it has all of the things I'd want from a Dead Island tower defense game, and it really highlights a different kind of cartoonish style for the series alongside a lot of various fluids and such expelling from various types of fleshsacks. This looks cute and better than at least one of the other Dead Island spin-offs.
Then, here is Dead Island 2's publisher responding to a bit of sass online which an update on what's happening with the titular sequel. You can practically hear the heavy sighs behind this tweet.
What's going on is that it's in development and we won't be showing more until we're ready. Appreciate the wait is painful, but Dead Island 2 is still coming.

— Dead Island (@deadislandgame) July 5, 2018
Which was met with the kind of reaction you might expect:
Dead Island 2 more like Duke Nukem Island Forever 2

— Dank Reddit Memes (@DankRedditMeme5) July 6, 2018
Dead Island: Survivors is out now on iOS and Android. No word on when we'll see a PC release on this... or anything else. ;<