Deus Ex 3 PC Being Co-Developed By Nixxes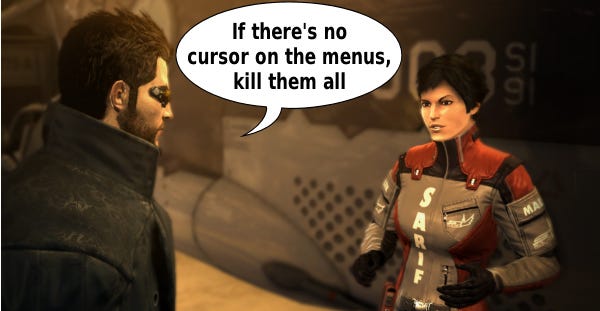 I'm never quite sure how to take news that a PC version of a game is being worked on by an external studio. Volition recently named the practice as the reason for their dodgy PC ports, and have promised they will be doing all their PC development in house in future. But others use it as a means to ensure the PC version receives the extra attention it requires. Except, well, not by them. Tonight Shack News are reporting that Deus Ex: Human Revolution's PC code is being worked on by Dutch external studio, Nixxes. But Eidos are very keen to emphasise that this is a shared development, rather than just outsourcing the whole thing.
This information is gleaned from an interview on Shack News with the game's director, Jean François Dugas. They asked him whether the PC version was being developed in house, and his slightly confusing reply went,
"No. Well, it was done in-house, but with a partnership."
Explaining that they don't have the manpower in-house to create all three versions, third place PC has been given, but not given, but sort of given to Nixxes, the team who have created faithful PC ports for the recent Lara Croft & The Guardian Of Light, and the superb Tomb Raider: Underworld. (Although is this anything to do with why Lara didn't have online co-op support for at least a month after release?) But Dugas is making sure to make it clear that the PC version is being carefully cared for by the original team.
"All the design and changes to the design has been done in Montreal and sent to [Nixxes]. We review the builds. We review and then give comments about what works and what doesn't. It's the exact same process, except that the programmers aren't in the same office. It's the same game and the same creative team taking care of it."
The PC version will also contain a unique UI, adapted for our deft-handed ways, but more information on this and other PC features are still under wraps. Shack end by reassuring us that Dugas's personal preference is to play the PC version over the other two, which sounds promising.
The rest of their interview is now up as well, containing some superb questions, and you can read it here. The game is set to release on the 24th August.