Deus Ex: Mankind Divided DLC Brings Back An Old Pal
Hello again, old friend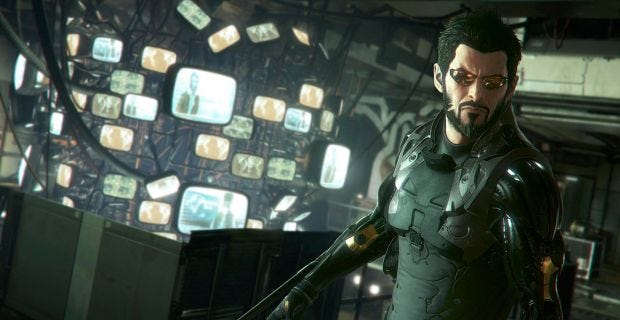 Deux Ex: Mankind Divided [official site] will get its first story DLC just one month after launching. Titled "Shadow Rift", this new story content will welcome back... well, obviously don't read on if you don't want to know who's been absent.
Shadow Rift will reunite Adam Jensen with his old buddy Frank Pritchard, the sarky cyber-security expert from Deus Ex: Human Revolution. Here's what Square Enix say the pair will be up to:
"In Deus Ex: Mankind Divided – System Rift, you will re-unite with Frank Pritchard, Adam's friend and former colleague at Sarif Industries, and assist him in hunting down information on the mysterious Santeau Group. Desperate to get more information, Pritchard targets one of the most secure data banks ever created – the Palisade Blade. In agreeing to help, Adam may also be able to uncover hints as to who the illuminati really are."
Hmm. Mysterious.
System Rift will be featured at a PAX West panel on Saturday at 3pm PST, for those lucky people at the con this weekend. Andreas Apergis, Frank Pritchard's voice actor, will be present, along with Adam Jensen's voice actor, Elias Toufexis, and Deus Ex composer Sascha Dikiciyan. They'll be dishing out more details on the DLC and Pritchard's role in the story for those of you keen to find out more.
Mankind Divided launched on August 23. Graham reviewed the game, and thought it was nice and polished, if not a bit too much of the same old. System Rift will arrive on September 23, and is included in the DLC Season Pass, which you can purchase on Steam. Alternatively, you'll be able to buy it separately for £9.49/€11.99/$11.99.
Oh, and a new patch came out today.