Diablo 4 multiplayer explained: Adding friends, crossplay options, benefits, and couch co-op breakdown
Here's how Diablo 4 multiplayer will work
How does Diablo 4 multiplayer work? Diablo 4 is better with friends, so if you and your buddies are looking to take down baddies in the depths of Sanctuary, you'll want to understand how multiplayer works in the action RPG game.
Fortunately, the game makes teaming up with your pals easy. Here's what you need to know about Diablo 4 multiplayer.
How does Diablo 4 multiplayer work?
Diablo 4 is designed to offer a great experience to players regardless of whether they choose to play solo or as a group. Therefore, while there are pros and cons to solo and multiplayer play, it'snot necessary to team up to enjoy the game. Even if you play solo, you'll come across other players in social hubs and for world events such as major enemy encounters.
But, if you want to join up with some buds, you can do so with Diablo 4 multiplayer. Some may argue that multiplayer is advantageous due to character synergies, the ability to spread out to fight, and other facets that could make group play a more manageable approach to this game. During the beta period, Blizzard wanted to encourage multiplayer play by offering shared XP among groups. However, due to players' ability to farm this for their advantage, it remains to be seen how Blizzard will incorporate this feature into the game upon launch or whether it will include it at all. However, the game grants minor buffs that players can get for playing as a team, such as the Strength in Numbers buff, which grants minor speed bonuses for team play.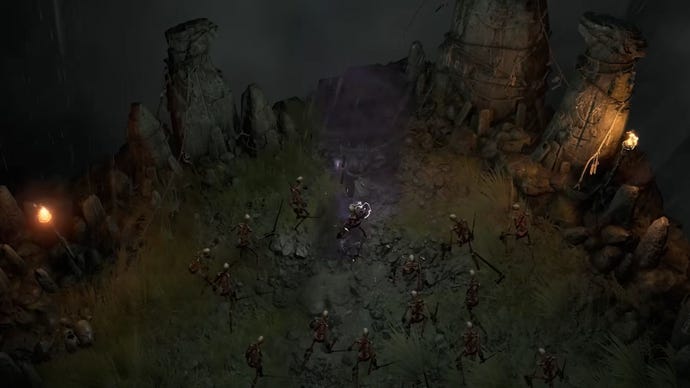 How to play Diablo 4 multiplayer
To create a Diablo 4 multiplayer party, you'll take the following steps:
Press Escape to open the Options interface.
Navigate to the Social tab.
If they're not already on your Friends List, add your friend by selecting Add a Friend and typing in their Blizzard Battletag, including the numerical sign and string of numbers at the end of the tag.
Once they're on your Friends List, you can choose Invite to Party to add them to your crew.
The Quick Join option allows friends to join your party without an invitation, and you can disable this as desired.
Those who play with others do not need to worry about sharing loot or materials you gather in the world, as any loot or materials you see in the game is uniquely yours and will typically also be loot geared for your specific character.
As another part of the multiplayer experience, you can trade items of up to rare quality in Diablo 4. If you're working as part of a team, you'll likely want to trade items among the group to maximize advantages for each player.
If you choose to play as part of a party, consider what roles are best to play. For example, you may want to have a tank character, a support character, and an attack character. However, the party composition isn't as relevant as in some other games, so your primary goal should still be to build a character you enjoy playing.
Speaking of, check out our best Diablo 4 Barbarian build, best Diablo 4 Rogue build, and best Diablo 4 Sorcerer build, best Diablo 4 Druid build, and best Diablo 4 Necromancer build guides for some excellent Diablo 4 build ideas.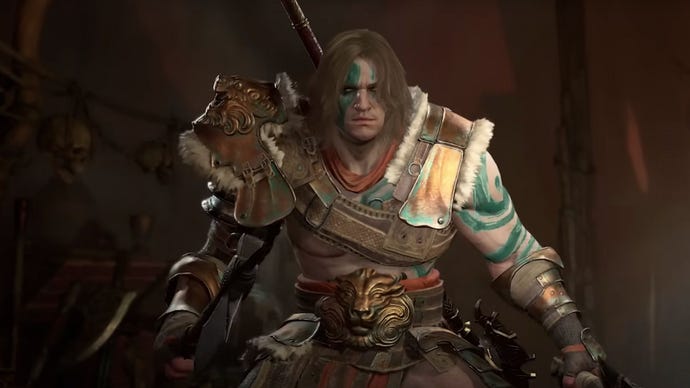 Does Diablo 4 support crossplay and cross-progression?
Diablo 4 supports crossplay between PC, Xbox, and PlayStation consoles, though players can manually choose to disable this in the Social menu settings. Generally, you should not encounter any issues squadding up with friends who play on different platforms than you.
Diablo 4 also supports cross-progression. Any items or cosmetics you earn, even if they're considered platform exclusives, will be available on other platforms, provided you own the game on those platforms.
Check out our guide to learn more about Diablo 4 crossplay and cross-progression.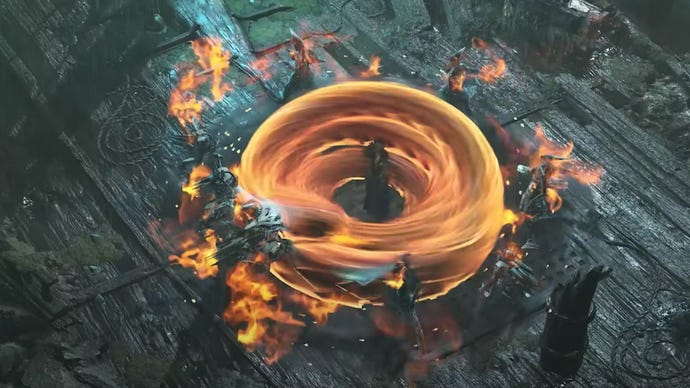 Does Diablo 4 support couch co-op?
Couch co-op is limited to console only. It allows only a max of two players but also confers some benefits. For example, both players do not need to own copies of the game to play couch co-op.
On console, you can activate couch co-op by creating two characters, activating a second controller, having each player pick their character, and starting the game. Both players can navigate menus simultaneously, but if only one player wants to adjust their character, the other can continue to fight and will be able to see half of the screen so they can attack enemies. Players can even visit separate vendors and see their wares at the same time. The couch co-op screen does not split in any way.
That's everything we know about how multiplayer works in Diablo 4. If you've been playing the betas, check out our insights on whether your Diablo 4 beta progress will carry over upon its launch and how you can get into the game's early access period. And to help you get around the world of Sanctuary we've also got a handy, interactive Diablo 4 map.
---
Activision Blizzard are currently the subject of a number of legal actions, labour disputes and allegations of workplace harassment. Rock Paper Shotgun will continue to write about these issues, as well as covering Activision Blizzard games as part of our commitment to cover subjects of interest to our readers. The latest news can always be found under our Activision Blizzard tag.