Dishonored 2 patch 1.3 hits Steam beta
Performance improvements and bug fixes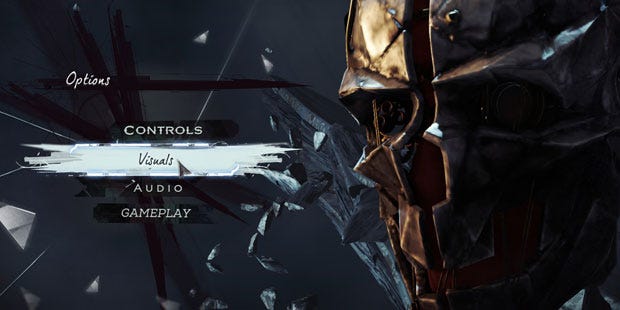 There's a - oh no! I just dropped a big toast crumb into my keyboard and the number four is now unavailable to me! Let's start again and I'll deal with that in a moment. There's a Dishonored 2 [official site] PC patch currently being tested on the beta branch of the game in Steam which is aiming to help with the performance issues some PC players have been reporting. This is just a housekeeping patch so no sign of a mission select option for now.
Okay, so first and foremost I'll mention that there is apparently an issue with Nvidia drivers 375.70 and 375.86 when it comes to Dishonored 2 so Arkane/Bethesda are recommending 375.95 on that front. For AMD users it's 16.11.4 - thank goodness I have a 4 on the number pad otherwise that one would have been a mystery for you all.
Scanning through the rest of the notes, there are a bunch of bug fixes for options menu and UI-related bugs and on the performance side shadow quality settings have a more significant visual and performance adjustment at "high" and below and they have "Reduced performance impact of transparent surfaces & VFX". The summary seems to essentially be that the team has identified some of the driver problems, has fixed a bunch of bugs with the UI, options menu and multiple monitor setups, and has applied some performance improvements which should hopefully help some players out if they were struggling with the game.
I wish Alec was in today so I could get him to load up the beta patch and tell me if the game was working better for him as I think he was the RPS person who seemed most impacted by all of this (and has the most awkward setup with his ultra widescreen shenanigans!). I'm pretty useless here as I actually switched to playing on PS4 although that's entirely because I like being on the sofa for longer games so I can get cosy (and nap between missions).
If you want to try the beta patch before it hits the main game you can right-click the game in your Steam library to find the properties menu then select "betas" and pick "BetaPatch" from the dropdown menu. When you close that menu down the game should then update and Dishonored 2 [beta patch] will appear in your library.
I will say that given it changes the game to the beta patch version rather than adding a separate beta version I'm not sure how switching to the beta branch might affect existing saves and the like, but if you've been frustrated with the game on a technical front you might want to give it a whirl and see whether it's helped with your issues.
You can find the full 1.3 beta patch notes here. Obviously, they might expand or change when it comes to the main game.
I'm not our resident tech expert so for more info you might also find it useful to read Alec's pieces on the previous heftier patch and what that did/didn't fix and why.