DLSS 3 is The Lord of the Rings: Gollum's biggest and perhaps only success
My preciouSS
I didn't get as deep into The Lord of the Rings: Gollum as our reviewist Rachel, but I do share her view that it is not A Good Game. In fact, I've had about as much fun with it as I would on a spa day in the Barad-dûr sulfur pits. Between the soulless platforming, undercooked stealth, tedious storytelling, and framerate stuttering so bad it's got me killed twice, Gollum is perilously short on likeable qualities. Especially if you're not into LOTR lore, or fine hattery.
In my unclad head, then, Gollum's highlight so far has been DLSS 3. It's one of just a few dozen games to support the newest, most artificially intelligent version of Nvidia's deep learning-powered upscaler, and frankly makes a very compelling argument for switching it on. Graphics card allowing, obviously.
DLSS 3 differs from the much more widely available DLSS 2 in a couple of ways. First, it includes an optional frame generation feature, which harnesses the increasingly misused power of AI for the altogether more innocent purpose of raising framerates in games. It does this by quite literally generating whole new frames, using data from previous, traditionally rendered ones, then slotting them in between those rendered frames. Smoother visuals, no extra GPU strain.
The second is that it only currently works on Nvidia RTX 40 series cards, like the just-released RTX 4060 Ti. I hope it can eventually spread out to at least older GeForce GPUs, because as Gollum shows, frame generation can let you crank up a game's other quality settings while dealing with the choppiness that this would otherwise impose.
Below are some benchmark results I recorded on an RTX 4070 Ti (with the RPS test rig's usual Intel Core i5-11600K and 16GB of DDR4 RAM). At 1440p, this card can coax a decent average framerate out of Gollum's Epic quality settings, complete with maxed-out hair simulation (??!?), and it would appear that adding ray traced reflections wasn't enough to render it totally unplayable. Still, 69fps to 41fps is a big, easily visible drop, and enabling ray tracing does exacerbate Gollum's moments of stuttering and slowdown.
DLSS upscaling, by itself, can help out a bit but still doesn't fully refund ray tracing's FPS cost. Throw in the AI-generated frames, though, and performance rockets upwards, more than doubling what the RTX 4070 Ti can do at native resolution.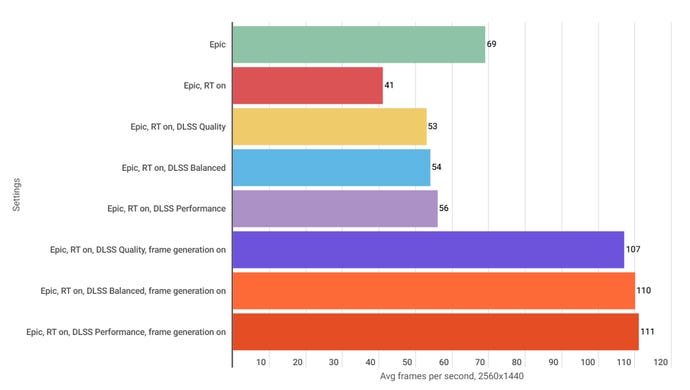 DLSS 3 is even more effective at 4K. This time, the RTX 4070 Ti simply couldn't handle ray tracing without upscaling help, but with DLSS in Performance mode it was able to outspeed native non-RT performance. Frame generation then took Gollum up past the 60fps barrier, with Performance-level upscaling averaging the best at 82fps. That's six times the average FPS of native, ray traced 4K.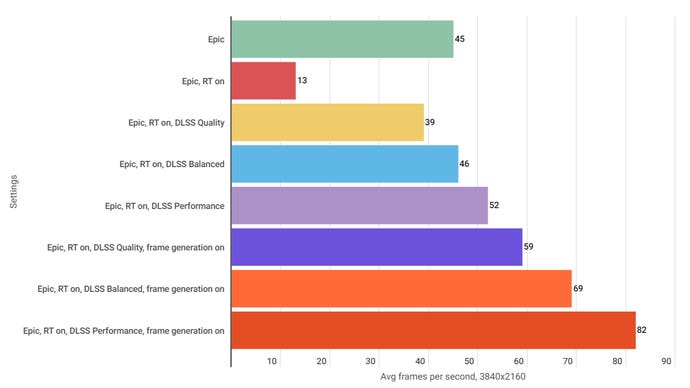 Crucially, DLSS 3's frame generation also soothes Gollum's stuttering. Not in the sense of fixing it – FPS drops will happen regardless of settings – but by keeping these occasional FPS low points still fairly high, whenever there is slowdown, it's easier to ignore. A fall from 100fps to 70fps isn't anywhere near as distracting as one from 60fps to 12fps, and you won't feel the former at all if your monitor is a bog standard 60Hz.
A more frowny-faced reading of this could be that I'm praising a mechanism for glossing over performance problems that should never have been there in the first place. Which I suppose I am, but then if the workaround is right there in the menu, and it still looks roughly as good as native resolution, and doesn't even really suffer from the added system latency that frame interpolation causes, then surely there's nowt wrong with using it.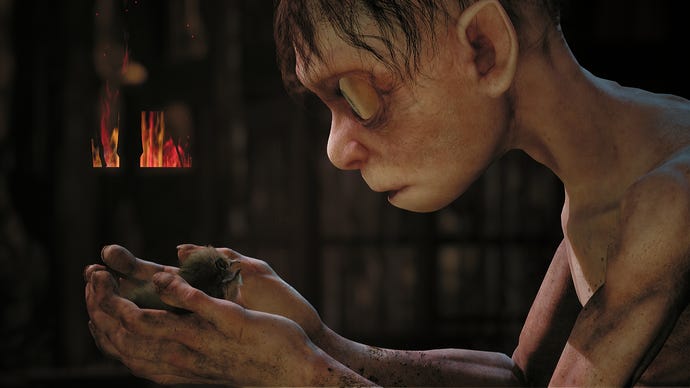 The real problem here is that so few Gollum players will actually be able to; as productive as DLSS 3 is, it's still limited to a tiny fingerful of graphics cards, and mostly rather expensive ones at that. Cheaper models like the RTX 4060 Ti and the upcoming RTX 4060 could therefore be even more significant launches, in the grand old GPU scheme, than previous Nvidia mid-rangers, as they'll be making this tech a lot more attainable. AMD's FSR 3 could also make for a useful combination of upscaling and frame interpolation, though we haven't seen this in action or heard when it's launching.