Water Witchery: Dovetail Games Fishing On Early Access
Starting cheap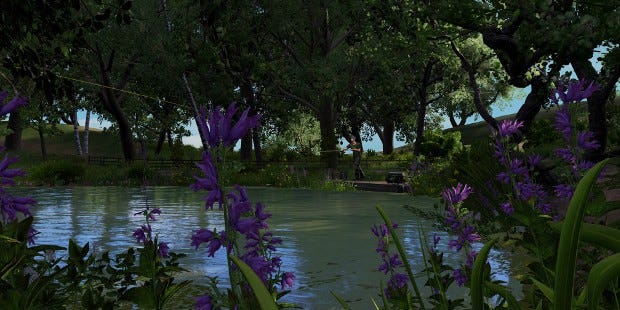 Fishing, as I understand it, is not about catching fish. It's all a macabre ritual to invoke a pleasant Sunday afternoon by the water, isn't it? The fisher delicately scratches the hook across their fingernail and nods at the white line left by a sharp point. Fingertips descend into maggots, grubbing for a fresh sacrifice, a juicy virgin. Meat and metal meet as, with the greatest of care, they pierce the flesh between the maggot's eyes. The weighting of the line, the winding of the reels... the rituals are minute and endless. For hours, they stare intently at mirror waters reflecting the sun's passage across the sky. Silence, solitude, ritual, and contemplation. Witchcraft.
Train Simulator developers Dovetail Games are now dabbling in that magic, having launched their fishing game into Steam Early Access this week. It's only £4.99 at first.
This is an awfully early version. Right now, Dovetail Games Fishing has a tutorial, a few casting target challenges, a casual fishing mode, one fish type, and that's about it. I've had it behave in weird ways and outright crash too. But for a few glorious minutes, I dangled my rod limply and simply took in the sights and sounds of the pond. Eventually, they'll let people wander around the pond and pick their own spot too. Yeah, that's right: a walking simulator. How lovely.
Dovetail say they expect to be in Early Access for 6-12 months, adding new things and gathering feedback. Reflecting how early it is, the game's only £4.99 right now. This price will go up over development. Here's a trailer going over their plans a bit: