Yager's spaceship 'em up Dreadnought hits open beta
Blammo!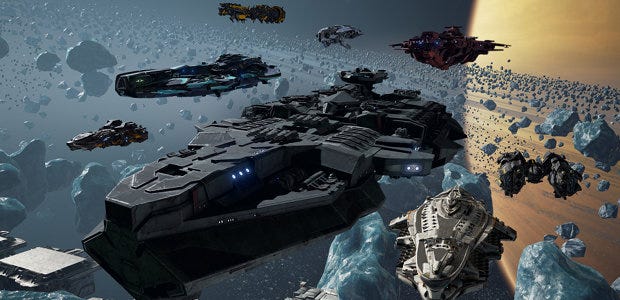 Honking great spaceships are now blasting each other in the newly-launched open beta of Dreadnought [official site]. Made by Spec Ops: The Line studio Yager, it's a multiplayer class-based shooter were folks play as capital-class spaceships. You know, the big ones. After a year in closed beta testing, now it's open to all who sign up over here with publishers Grey Box.
I've not had a crack yet myself so here's the official blurb:
"Dreadnought puts players in command of massive capital ships on the front lines of tactical team battles across a variety of competitive online multiplayer modes. Captains must master their vessels and work together to succeed, utilizing their team's strengths while exploiting the enemy's weaknesses. There are more than 50 playable ships, spread across five distinct classes, that players can choose from to build their fleets. From close-quarters combat to long-range assault and strategic support, each vessel is designed to bring unique specializations to the fight and can be further customized with an array of weapons, modules, coatings and decals."
The open beta is run as free-to-play, selling cosmetic doodads, experience boosters, and 'hero ships'.
How about you, gang - have you had a bash? What's it like?
The jump to open beta has brought a new updae with a new map set around an orbital space elevator hub, two new variants of existing maps, more cosmetic options, balance tweaks, and bug fixes.
A fancy new CGI trailer marks the open beta launch but tch, that's not much use to anyone. Instead, check out last week's official community livestream for actual action: